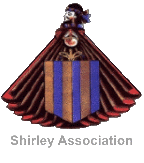 The Shirley Association has been a member of the Guild of One-Name Studies since 1988

Shirley Family
DNA Project

The Shirley Association has launched one of its most important genealogical projects to date. DNA testing has been proven to be an invaluable genealogical tool and the Shirley Association has jumped into the latest technology with both feet. We are hoping to use this technology to connect the many unconnected Shirley branches from all over the world. Testing is open to all males with the Shirley surname.
DNA Tip Jar
Can you help the Shirley Association pay for certain critical DNA tests? FamilyTreeDNA provides a method for Shirleys to contribute small amounts of money toward the DNA research project. You might make a donation in memory of a loved one. Contributors are able to make donations online to the Shirley surname project at the FamilyTreeDNA website by credit card, PayPal, or by mail.

Contribute to the Shirley DNA Project here
DNA Test Results
Shirley family DNA test samples have been analyzed by the lab and results have been categorized by Haplogroup. This analysis allows researchers to place test participants into specific ancient cultures which civilized the European continent thousands of years ago. Shirley family branches which belong to one particular haplogroup are not related to branches in other groups.
Shirleys in Haplogroup: I, I2b
Shirleys in Haplogroup: R1a, R1b, R1b1
Shirleys in Haplogroup: E1b1b1New haplo distinction
How to Participate in the Shirley DNA Project and Order Test Kits
Discover how you can participate in the Shirley Family DNA project. Find out how easy it is to participate and also about the cost. here>>
Understanding 12 and 25 Marker Test Results
This page addresses how to understand the DNA markers and whether certain markers are slow to mutate or fast. This page also addresses the question of how to determine if your results match others. here>>