2(iii). Leicester Colville Shirley, esq. born 1838 in Tonbridge Kent England (child by Isabella nee Darrell), Came to Jamaica at age 20 and assumed the proprietorship of all of the legacy of his brother Henry and that of the late Henry Shirley of Hyde Hall; At one time he held Hyde Hall, Glamorgan, Ettington and Steelfield estates, all of which he lost by the time of his death. He was custas of Trelawny and a member of Lincoln's Inn in London; He died 21 October 1914 at age 78 in Trelawaney, Jamaica He was buried in St Michael's Church in Clarks Town Jamaica.
Leicester Colville Shirley

St Michael's Church,
Clarks Town
History of the Parish of Trelawny, by David Ogilvie - Mr. Leicester Colville Shirley was an Englishman. Born in the year 1836, he came to this country in the year 1856, at the age of 20, to assume control of the affairs and estate of his elder brother, Henry, who died under tragic circumstances at Spanish Town, where he was serving as a Representative of this Parish in the House of Assembly. The first public notice we have of Mr. Leicester C. Shirley was when he was appointed by Sir John Peter Grant, Governor, as a member of the Municipal Board of Trelawny on the 1st January, 1870, along with six other gentlemen, headed by the Honourable Robert Nunes. Mr. Shirley was a most likeable man. His stature was imposing, he being over six feet, and his body in proportion. No superfluous fat or flabbyness. He had a military gait and his deportment synchronized with his lofty character. He was a most approachable man and gave everyone with who he came in contact a pleasant smile. His presence at meetings conferred a singular dignity and charm to the proceedings. His refined accomplishments produced a marvelous attachment and enchantment on those who secured his friendship. Indulgence, kindness and generosity were his peculiar attributes and which were dispensed without parade or ostentation. Mr. Shirley identified himself with every movement calculated to uplift our people and enhance the welfare of Trelawny. He was at one time Colonel of the Trelawny Militia and right well did he display military discipline and training with great sympathy and consideration to his subordinates. His uniform courtesy to the rank and file won for him the respect and esteem of all his men. He was no mere ornament but one who applied diligence with wisdom in his public performances. Mr. Shirley was appointed to the Municipal Board by Mr. John Peter Grant, Governor, on the 8th. January, 1870. As the first Chairman of the newly constituted Parochial Board of Trelawny in the year 1885 under Sir Henry Norman. We understand he was a graduate from Lincoln's Inn. At the inaugural meeting of the Parochial Board on the 1st October, 1885, which was held in the Falmouth Town Hall, in addressing the members, Mr. Shirley is reported to have said: "Gentlemen, fellow parishioners, we have been honoured by the Government of this Colony with the task of administering the affairs of this Municipal Board, and so we are called upon to address ourselves to a task which indeed demands the best energies of the best among us and I do believe, with great humility, we will not be found wanting or unworthy in our responsibilities if they are even beset with unpredictable difficulties. The honoured men preceding us have by laying a sure foundation, bequeathed a legacy of which we are the proud inheritors. Without gainsaying, new and colossal problems may from time to time arise, but I am confident, I am certain that with grit and determination, successful issues will crown our efforts. Our thoughts and actions should be devoted and applied in seeing that the administration of each of the various departments in this municipality is conducted with energy and stamped with honesty, wisdom and virtue, redounding to the happiness and contentment of our people. Interwoven in our thoughts must be a love of service, even at a sacrifice to achieve our goal. Your individual and united support is the main pillar on which I rely for every achievement contemplated in making this Parish a happier and more progressive place than we found it. It is not a parade of words that we hope to further the interests of Trelawny Parish, but a display of enthusiastic interest never waning but developing continued freshness as the years go by. And now gentlemen we take a forward march. I pledge to do my part and rely on your cooperation." (Applause). Mr. Shirley remained as Chairman of the Board until the year 1903, when he resigned in disgust in consequence of the conduct of an irracible Medico who was a member of the Board. Despite pleadings and expressions of appreciation of his services Mr. Shirley refused to give favourable consideration and resile from his decision. The repeated insults hurled by this member created an atmosphere nauseating to the finer feelings of Mr. Shirley and others of his class. He was a celebate, a fact which he lamented in his late years. He at one time owned Hyde Hall, Steelfield, Glamorgan (where he resided), and Etingdon. There were all lost to him before his demise. He was befriended to the last by his God-son, Mr. Percy Sewell. He died on the 21st October, 1914, at the age of 78, and his mortal remains interred at St. Michael's Church at Clarke's Town. His passing was regretted by all who knew him and the multitude which attended his funeral was a silent but demonstrable testimony of the love and esteem they bore. We who knew him have penned this unvarnished and faithful eulogy to one who we admired and respected.

Cheltenham College Register - Shirley, Leicester Colville, son of ___ Shirley, esq; born 26th February 1838. Day Boy.

1860 Nov 16 Records of the Honorable Society of Lincoln's Inn, Admission's Register folio 224. Leicester Colville Shirley (22) first son of Henry Shirley late of Cheltenham, esq, dec'd.

Shirley, Leicester Colville, practises before the supreme court of Jamaica, a student
af Lincoln's Inn 16 Nov., 1860 (then aged 22), called to the bar 6 June 1864 (eldest son of Henry Shirley, Esq., late of Cheltenham, dec.); born , 1838. - Men at the Bar, by Foster

Illigitimate children of Hon. Leicester Colville Shirley and Eliza Stoney

Elizabeth Stoney born about1850 died at Pimento Walk, Duncan's District, Trelawney on 2 July 1925, spinster age 70, domestic. Leila Shirley was present at death, Pimento Walk Trelawny.

3(i). Henry Percival Barnett Shirley born 2 March 1873 at Glamorgan, name 'Henry Percy Roper" on birth registration; complexion brown; illigitimate; Father Hon. L. C. Shirley, proprietor Hyde Hall, mother Eliza Stoney. Henry was age 27 at time of marriage in 1899. Lived Hyde Hall Jamaica. Immigrated to the US, lived in Hempstead Nassau Co NY in 1930 census (age 56; her age 55; race: white; born England; age at marriage he 25/ her 24; cable man at electric company; immigrated 1920 to US); ; Lived 48th St in Queens NY in 1940 census (he age 63/ her age 65; race: white; both finished high school education; not a citizen; lived in Queens in 1935; stock man for an electric utility co.). He died 2 July 1943 at Highwood, Lake Co Illinois USA, buried Libertyville IL. His occupation at time of death was stock clerk - electric service. (Father on death cert: Lester Shirley; Mother: Eliza Stoney)

married Ethel Ella Maud Philpot on 17 August 1899 in Jamaica. She was age 27 at time of marriage. Daughter of John Philpotts of Hyde Hall, Trelawny. She and daughters Beryl and Cicily immigrated to the US, departing from Cristobal Canal Zone on the ship Aconcagua, arriving Ellis Island NY on 25 June 1924. Ethyl listed nearest relative or friend at point of departure as Mr S E Muschell of Colon. She and children were said to be meeting husband Henry shirley at 301 W 55th St NY, all with complexion: white; hair: brown; eyes: brown. Ethyl's place of birth listed as Kingston and the 2 girls as Gorgona Canal Zone

children:

4(i). Ouida Alexandria Shirley born 5 July 1901 at Trelawny Jamaica (her father was listed at time of birth as a planter of Hyde Hall, surname Barnet-Shirley, mother Ethyl Phillpott)

Email: Jan 2015 - LC Shirley had a son, Henry Percival Shirley, with Eliza Stoney in Jamaica. Henry married my great-grandmother Ethel Philpotts and their eldest daughter, Ouida, was my grandmother. It has been amazing reading about her heritage but I would love to know more about Eliza Stoney and Ethel Philpotts. We always thought my grandmother had African roots. One of my early recollections sitting on my Nana's lap, playing with her hair, I asked her if she was "colored." She slapped my face and told me to never say that. She told us many stories of Jamaica, Panama, and her family leaving English royalty before being told to get out by the queen. Reading some of the history has shown me how it actually supports some of grandmother's stories.
If anyone has a suggestion as to where I can find more information I would appreciate it. My email is jrylryll (at) yahoo.com

4(ii). Gerald Clinton Shirley born 10 March 1903 at the Ettington estate in Trelawny; Father: Henry Shirley of Hyde Hall, planter; Mother: Ethyl Shirley formerly Phillpotts nothing more known

4(iii). Irma/Izma Henrietta Shirley born 23 September 1904 at Kingston (according to immigration record). Her father was listed at time of birth as a planter of Hyde Hall, surname Barnet-Shirley; mother Ethyl Phillpott. "Izma" immigrated to the US in 1922 from Cristobal Canal Zone on the ship Colon, two years before her mother and 2 sisters. She lists mother Ethyl Shirley as next of kin in Panama and that she was meeting her father Henry Shirley at 56th Street New York; Complexion: white; hair: brown; eyes: brown

4(iv). Beryl Shirley (Is she Irma?) born about 1909 at Gorgona Canal Zone (according to US immigration); age 21 in the family household, 1930 US Federal Census for Hempstead NY; born England; chief ?oplistie at telephone company

4(iv). Cecily Shirley born 9 September 1910 at Gorgona Canal Zone (according to US immigration), age 19 in the family household, 1930 US Federal Census for Hempstead NY; born England; typist at telephone company

3(ii) [presumed] Leicester Colville Shirley born 5 August 1878 at Hyde Hall Trelawny to Eliza Stoney [no father named]. He died 27 December 1883 of fever at Hyde Hall, Trelawny, age 5. His Shirley surname was listed in the death certificate

Other children, supposedly via Elizabeth Stoney:

3(iii). Leila Houlton/Moulton/ Shirley (tradition says half sister of Michael Alfred Barnett Shirley). She may be the Leila May Stoney born to Eliza Mare Stoney at Pimento Walk Trelawny on 29 January 1890.

"Growing up, I had always heard that Gerald and Leila had a white mother. Hence they were my grandfather's half siblings, but they knew each other very well growing up. And I understood that Leicester [Shirley] changed the second name to keep the children straight according to their mothers. Hence my grandfather had Barnett in his sequence of names. I thought that Gerald and Leila were Bolton, but in my study of this, I saw Houlton or Moulton as being names from Leicester Colville's mother. So I am unsure of this."

Email Sept 2018: ....Y DNA testing sponsored by the Shirley Association and his line is through Leicester and Eliza Stoney. Leila apparently has the same mother.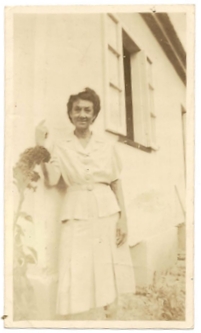 Leila Shirley, half sister of
Michael Alfred Barnet Shirley

(Photo in possession of M.A.B. Shirley family, name Leila written on back)
3(iv). Gerald Moulton/Bolton/Barnett Shirley born about 1869 [age 36 at time of marriage in 1905] He Apparently witnessed the marriage of his half brother Henry Percy Barnett Shirley in 1899. He died on 6 August 1909 of pneumonia, age 39 at Port Antonio Portland parish, occupation: customs officer. (middle name appears as Moulton as marriage witness, and as Bolton in one child's birth record, and Barnett at all other times)

Ancestor of DNA Kit #33306
matches DNA of descendant of Henry Shirley of Hyde Hall

married Susan Subani (East Indian) and had many children

Email 2015: It is my understanding that Gerald Barnett Shirley had relations with an East Indian woman by the name of Susan Subani. From their union, my grandfather was born. I show that when my grandfather was about 7 years old, Gerald married Adela Holwell and had one daughter Agnes, in 1907. Susan Subani left Jamaica for New York around that time, leaving Reginald. I am trying to contact the Lewin family as they have more details on Susan. Reginald married my grandmother Estella Reid and had 9 legitimate children. There were one or two illegitimate ones also.

married Adela Mercedes Hollwell on 19 November 1905 at Falmouth, Trelawny. Adela Shirley apparently had an illigitimate child after the death of her husband. The child, Gerald Shirley, died as a 2 month old infant on 21 August 1911. She was a dressmaker in Kingston at the time.

19 November 1905, a Gerald Barnett Shirley bachelor age 36 planter of Eingdon [sic] Trelawny, son of Leicester Shirley [Why not "esq."?] married Adela Mercedes Holwell, spinster age 19 teacher of Falmouth Trelawny, daughter of Charles Hollwell. The marriage was witnessed by Leila Shirley

children:

4(i). Reginald Barnett Shirley born 12 October 1898 [source: tombstone]; His occupation was listed as shopkeeper at the time of his two childrens' birth in 1922 and 1925 and butcher at the time of his daughter Leonie's birth in 1929. He died 8 December 1966; buried at St Michael's Clarks Town, Trelawny Jamaica.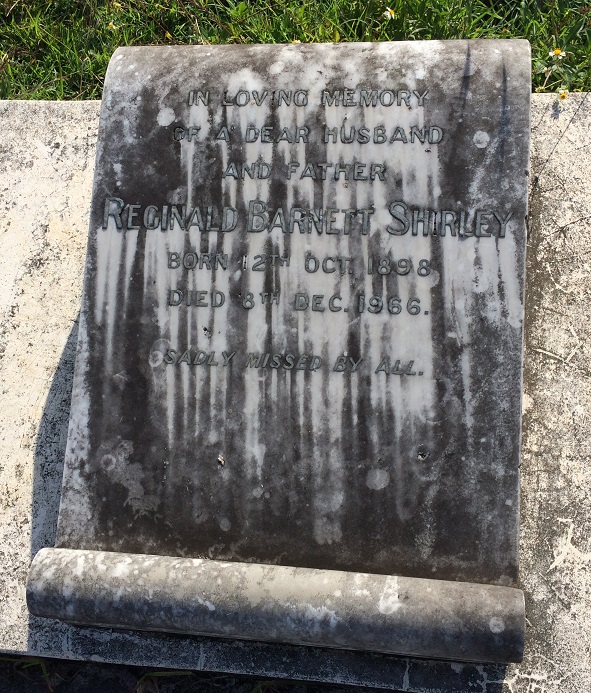 In Loving Memory of a Dear Husband and Father
Reginald Barnett Shirley
Born 12th October 1898
Died 8th December 1966
Sadly Missed by All
Email Nov 2015: My maiden name is Angela Shirley, and I have been researching my family tree. I have managed to trace roots from Bernard Shirley of London where I was born, all the way to my grandfather Reginald Shirley, born in Trelawny, Jamaica. My lineage goes as follows:

Bernard Shirley Esq - Henry Barnett Shirley - Leicester Colville Shirley – Gerald Moulton Barnett Shirley – Reginald Barnett Shirley – Lester Reginald Shirley (my father). Do you know if your book follows this lineage in depth? On your site there are some gaps I may be able to answer regarding Michael Alfred Shirley of Panama.

Email Sept 2018: ....Y DNA testing sponsored by the Shirley Association and his line is through Leicester and Eliza Stoney. Leila apparently has the same mother.

married Estella Reid. She was born about 1894 in Trelawny (age 81 at death in 1975). She died 2 November1975 at St Andrews Parish, age 81, widow of Reginald Shirley, businessman. Informant at death was son Lester Shirley.

children:

5(i). Donald Alexander Shirley born about 1920, age 24 at the time of his marriage in 1944 at Duncans Trelawny, son of Reginald Barnett Shirley

5(ii). Etheline Maud Shirley born 26 Dec 1922 to Reginald Shirley shopkeeper of Armagh Falmouth Trelawny and wife Estella Shirley (nee Reid).

5(iii). Cleavland Shirley born 8 Jan 1924 to Reginald Shirley shopkeeper of Falmouth Trelawny and wife Estella Shirley (nee Reid).

5(iv). Victor Gordon Shirley born 24 Nov 1925 to Reginald Shirley shopkeeper of Sherwood Trelawny and wife Estella Shirley (nee Reid).

5(v). Lester Reginald Shirley born 21 November 1927 to Reginald Barnett Shirley butcher of Prospect Trelawny and wife Estella Shirley (nee Reid).

5(vi). Leonie Bernice Shirley born 7 July 1929 to Reginald Barnett Shirley butcher of Prospect Trelawny and wife Estella Shirley (nee Reid).

Shirley book - Supposedly these are the children of Gerald Barnet Shirley and Susan Subani (need confirmation - I don't find any of these births, some appear similar to the above)

i. Donald SHIRLEY
ii. Gerald SHIRLEY
iii. Cleve SHIRLEY
iv. Victor SHIRLEY
v. Lester SHIRLEY
vi. Adolph SHIRLEY
vii. Lee SHIRLEY
viii. Normafay SHIRLEY
ix. Keith SHIRLEY
x. Glennor SHIRLEY
xi. Janet SHIRLEY
xii. Faith SHIRLEY


4(ii). Agnes Eliza Mercedes Shirley born 10 January 1907 at Kingston, daughter of Gerald Barnett Shirley of Face View Pimento Walk Duncans, planter, and Adela Mercedes Shirley (nee Holwell)

4(iii). Leicester Colville Shirley born 3 November 1908 at Port Antonio Portland Parish, son of Gerald Bolton Shirley of Port Antonio Portland, customs officer, and wife Mary Adela Shirley (nee Holwell) The birth record was signed as Gerald Bolton Shirley

illigitimate children with Olivia Elizabeth Martin, later Harmond

Email Aug 2016: Uncle Mike listed Mrs Elizabeth Harmon on his personnel record of dependents in 1929. Turns out she married Richard Harmond and had three children with him, Isabella (b 1890 at Trelawny), John Israel (b 1893 at Trelawny), and Nehemiah (b d 1896, mother Olivia Eliz Martin).

[Ed: An Elizabeth Harmond, wife of Richard, died at Kingston on 18 Jun 1930, age 74 (b 1856)]

3(iv). Michael Alfred Barnett Shirley born in Duncan, Trelawny on 30 November 1877; Lived in Panama; 1930 US census in Gatun states Michael Shirley's father is an Englishman (thus, his mother Elizabeth Martin would have been about age 21 at time of MAB Shirley's birth)

Email 2014: My research has taken me to Michael Alfred Barnett Shirley's Panama Canal personnel records stored in St. Louis, Missouri, and that yielded a real gem about his mother, Elizabeth Harmon Martin from a handwritten form in his hand from 1929; a death certificate from 1968 that says his maternal surname was Maritn; and, best of all, from the National Archives of the Republic of Panama, a certification of registry listing his father as Lester Colville Shirley and his mother as Elizabeth Harmon Martin having entered Panama in 1906.

3(vi). unknown son (source of this son?)

3(vii). Agnes Shirley (apparently a sister of Leila) she died at a young age.

"Lelia Moulton/Houlton Shirley is my great great aunt. I have limited information about an Agnes who is supposed to be Leila's sister. Lelia took care of my grandmother, Clemenica Antonio (married name) when Clemenica's mother Agnes died ( at a young age). From stories told to me Agnes was the legitimate child and Lelia was not but I cannot find ANY info about her." - Michelle July 2013