...
March 2020 - Breakthrough: Branch merged with Shirley Branch #26
Update Jul 2011 - Editor: Daniel Shirley, brother of John and Peter served in the War of 1812 and applied for bounty land many years later when he lived in Iowa. In many of the official US govt correspondences, the Gov't says he served under the name aka Daniel Schyray. I just saw another document in his file that says 'I forwarded a declaration to your office under date of 30 November 1850 for a GERMAN named Daniel Shorely or Schyray. I think he stated in his declaration that he lost his certificate of discharge' .....There is an intriguing orphans court record in York Co PA for John, Daniel, and Peter, sons of John Shirey dated in the 1813-15 timeframe (perfect for the father to have died and perfect for the age of the 3 boys prior to their departure for Berkeley County VA ). BUT....the surname is SHIREY (very clear and legible and the same spelling on numerous orphans court documents). Now, while the names Peter, Daniel and John are very common in this area because of the Germans, this item is still possibly a Shirley (maybe). The reason I say this is because the surname in Berkeley and Morgan tax lists are consistently (year after year) SHIRELY, not Shirley etc. There is always an "e" after the "r".
Daniel Shirey/Shirely born about 1797 PA died April 10, 1872 Canton, Jackson Co. Iowa.
married Anna Flynn May 31, 1818 Martinsburg, Berkeley Co. VA. She died Jan 25, 1872 Canton, Jackson Co. Iowa

children:

1(i). Edward Shirley was born March 1819 Maryland. Lived Hancock Co., Wood Co. Ohio and by 1900 were in Gratiot Co Michigan. Died 8 Aug 1902 at Emerson, Gratiot Michigan age 83. He was widowed at the time.

married 1) Morttia ___

married 2) Elizabeth ____

children: (census)

2(i). Jacob Shirley born 1846 in Ohio

married Catherine ___

children: (census)

3(i). Margaret "Ella" Shirley was born 1869 Ohio

3(ii). Effa Shirley was born 1870 Ohio

3(iii). Malisa Shirley was born 1872 Ohio

3(iv). Edda Shirley was born 1874 Ohio

2(ii). Sarah Shirley was born 1849 Ohio

2(iii). Anthony Shirley was born 1850 Ohio

2(iv). Hiram Shirley was born 1852 Ohio

2(v). David Shirley was born 1854 Ohio; died 24 Aug 1873 Wood Co. age 19, single

2(vi). William Shirley was born 1857 Bloom Township, Wood Co Ohio; died 25 Oct 1872 Wood Co age 16, single

2(vii). Francis Marias Shirley was born 1859 Bloom Township Wood Co Ohio; died 26 Sep 1872, age 14, single

2(viii). Louisa Shirley was born 1864 Ohio

2(ix). Minnie Shirley was born 1875 Ohio

2(x). John Shirley was born 1879 Ohio

1(ii). Margaret Shirley was born July 26, 1821 Berkeley Co. Virginia. She married Thomas Williams February 2, 1836 in Hancock Co. Ohio. He was born March 12, 1812 in Berkeley Co. Virginia.

1(iii). William Shirley was born April 24, 1824 Morgan Co. VA. He died Nov 10, 1916 Lincoln, Lancaster Co. Nebraska. (his photo in right margin)

married Phila Jane Shuck Sept 17, 1846 Hancock Co. Ohio. She died Jan 11, 1884. Both are buried Oakwood Cemetery, Weeping Water, Nebraska.

children:

2(i). Daniel Alford Shirley was born Sept 26, 1847 Hancock Co. Ohio, d. Aug 23, 1934 Waverly, Kansas, buried Weeping Water, Nebraska. Married Emily Dowler Dec 5, 1867 Jackson Co. Iowa

2(ii). Mary Elizabeth Shirley was born May 24, 1850 Dane Co. Wisconsin d. 1942, died 1942 Santa Monica, CA m. Charley McHenry

2(iii). John Thomas Shirley was born Jackson Co. Iowa Dec 20, 1852 d. Sept 29, 1868 Stevens Creek, Lancaster Co. Nebraska

2(iv). Emerson L. Shirley Aug 5, 1855 Jackson Co. Iowa, died April 17, 1952 Weeping Water, Nebraska.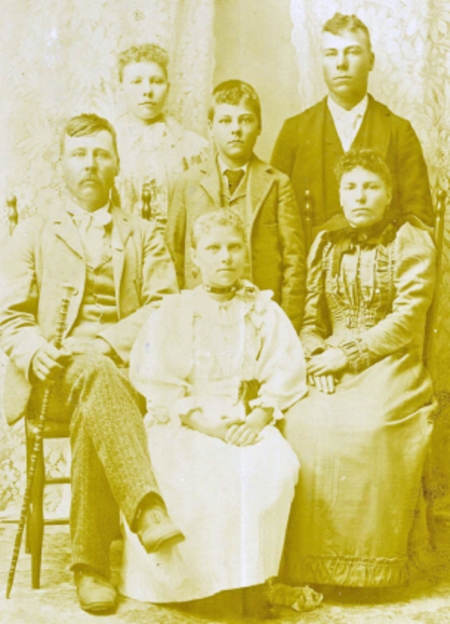 "Picture found at antique shop along with other Shirley and Colbert pics.
Written on the back: E.L. Shirley, his wife Ellen Shirley and their four children.
picture taken at Weeping Water, Neb."
source: familysearch
married Martha Ellen Highley May 31, 1874 Geneva, Nebraska.

children:

3(i). Charles Shirley born 9 March 1875 at Sutton, Clay Co Nebraska. He died 2 May 1941 at Randolph Ceder Co Nebraska

3(ii). Minnie Shirley born 4 November 1877 at Sutton, Clay Co Nebraska. She died 6 April 1964 at Lincoln, Lancaster Co Nebraska

3(iii). Forrest Shirley born 9 October 1880 at Weeping Water, Cass Co Nebraska. He died 11 March 1964

3(iv). Vera B Shirley born January 1882 at Weeping Water, Cass Co Nebraska. She died in 1904, about age 22.

2(v). Charles William Shirley was born Oct 14, 1858 d. 1944, married Cecy Dowler

2(vi). Alice Shirley was born July 29, 1861 d. April 14, 1864

2(vii). George Irwin Shirley was born Feb 26, 1864 d. Dec 1, 1940 Weeping Water, Neb,

married Martha Root

children

3(i). Ralph Jasper Shirley was born 1887 d. 1939

3(ii). Elizabeth Shirley was born 1889 d 1951 m. Paul Gantt

3(iii). Clesson Virgil Shirley was born 1894 d. 1941

3(iv). Fred Nile Shirley was born 1901 d. 1941

3(v). Eva Ida Shirley was born 1905 d. 1981

2(viii). Peter Van Shirley was born June 22, 1876 d. Feb 11, 1878 Sutton, Nebraska

1(iv). Daniel Shirley was born October 10, 1831 Berkley Springs, VA. died Jan 1, 1917 Marshalltown, Iowa in Soldier's Home.

married Susan Ralson Mar 1854 Jones County, Iowa. Divorced after the Civil War.

children:

2(i). Ilander Shirley was born Jan 27, 1857 Jackson Co. Iowa d. Feb 3, 1925 m. Mary Winnans

2(ii). Roy Shirley was born 22 Nov 1857

2(iii). Francis Shirley

2(iv). William Nelson Shirley was born Jan 12, 1863 Canton, Jackson Co. Iowa d. Sept 15, 1945 Toronto, Woodson Co. Kansas

married Cora Alice Clark June 10, 1896 Iron Hill, Jackson Co. Iowa. She was born Oct 25, 1868 Iron Hill, Jackson Co. Iowa, d. Feb 17, 1951. Her parents were Cephas Clark II and Jane Catherine Bridge

children:

3(i). Portia Helen Shirley was born April 27, 1897 Iowa m. Fred P. Ruckwell Dec 18, 1917

3(ii). Norman Henry Shirley was born Nov 13, 1898 Jackson Co. Iowa d. June 6, 1908

3(iii). Hugh Shirley was born Nov 12, 1900 d. Sept 10, 1892

3(iv). John Shirley was born Oct 7, 1905 Jackson Co. Iowa d. Mar 7, 1907

3(v). Emma Katherine Shirley was born Dec 29, 1909 Woodson Co. Kansas m. Lewis Lee Fankhauser

NO children.

1(v). John W. Shirley was born March 14, 1833 Hancock Co. Ohio, m. 1st Mary Powers, m. 2nd Mary Detwiler. no further trace after 1850 census

known children:

2(i). Howard Shirley

2(ii). Annie Shirley

1(vi). Peter Van Shirley was born Nov 27, 1837 Ohio. Peter Van Shirley spent his childhood in Ohio. He had one daughter before he joined the Army in 1862. He was in Co. A of the Iowa Infantry where he served in the civil War. His son, Ulysses Grant Shirley was born May 13, 1865 while he was still in the army. Peter was wounded and discharged in June 1865. Three more sons were born to Peter and Samantha before they left Andrew, Jackson Co. Iowa. Their daughter, Stella, died in Iowa at about the age of twenty years. Peter and Samantha and their five sons, John, Ulysses, Norman, Morris and Miles came to Nebraska in 1885 in a covered wagon. They homesteaded south of Wellfleet. He left the farm and moved to Wellfleet in the early 1890's. He ran a little grocery-hardware store in Wellfleet. His wife, Samantha, died in 1918. He retired and moved to Hayes Co. with his son, Ulysses, in 1920. He lived with him until his death on Jan 25, 1921 at North Platte, Nebraska

married Samantha Eads Feb 29, 1860 Jackson Co. Iowa

children

2(i). John W. Shirley was born Jan 5, 1863 Canton, Jackson Co. Iowa d. Aug 19, 1949 Eagle Rock, California m. Hattie Anne Jackson Dec 24, 1888 Maywood Nebraska

2(ii). Ulysses Grant Shirley was born May 13, 1865 at Canton Iowa, Ulysses and Della resided on his homestead eight miles southwest of Wellfleet in Hayes County and farmed until 1944 when they moved to Curtis. He died Jan 26, 1957 in Denver CO and is buried in Wellfleet.

married Della Blanch Chinn on July 3, 1893. She was the daughter of John Grafton Chinn and Susan Smith Chinn, born Mar 2, 1872 at Colfax, Iowa, died Oct 21, 1953 at Moorefield NE. She came with her father and stepmother by train to McCook. Her family homesteaded about twenty miles southwest of Wellfleet in Hayes County. Delia taught in a sod school house known as Evergreen in 1891 and 1892.

children.

3(i). Laura Edith Shirley was born Aug 4, 1894, died Oct 11, 1928 in a car accident, married to Ray Marash. She is buried at Wellfleet

3(ii). Mattie Mildred Shirley was born Jan 29, 1896, married 1st Neal Schrecongost, m 2nd Delbert Welch

3(iii). Manley John Shirley was born Sept 12, 1897, died 1973, married Bessie Corlett

3(iv). Clair Willard Shirley was born June 12, 1900, d. 1976, buired Madrid, NE. m. Lavada White

3(v). Virgial Duane Shirley was born 1902, died 1978, m. 1st Daphia Shepherd, m. 2nd Jessie Corlett Porter

3(vi). Herbert Leslie Shirley was born Jan 13, 1904 m. 1st Zora Fern Corlett, m. 2nd Dorothy Bollwitt

3(vii). Floyd Charles Shirley was born Oct 9, 1905, died 1984, buried McCook, m. Agnes Johnson

3(viii). Verna Blance Shirley was born Oct 1, 1907, died 1980, m. Philetus (Bud) White

3(ix). Kenneth Eugene Shirley was born Mar 4, 1909, died 1972, buried Denver CO, m. Eleanor Mogensen

3(x). Baby Boy Shirley was born Jan 24, 1911, died April 7, 1911

3(xi). Homer Roland Shirley was born July 25, 1912, died June 25, 1985, buried North Platte, m. Florence Simms

3(xii). Harold Sidney Shirley was born Mar 17, 1915, m. Betty June Lewin

3(xiii). Clyde Stanley Shirley was born Aug 1921, d. 1979, buried Wellfleet.

2(iii). Norman B. Shirley was born ca 1867 Canton Iowa d. California m. Blanche Smith

2(iv). Maurice D. Shirley was born April 25, 1870 Canton, Jackson Co. Iowa d. 1959 California

married Myrtle Hazen Dec 25, 1895 Elwood, Nebraska

3(i). Ethel Laura Shirley b: 5 DEC 1897 in Lincoln Co., NE.

3(ii). Guy Clifford Shirley b: 20 JAN 1900

3(iii). Chauncey Leo Shirley

3(iv). Pansy Buleah Shirley

3(v). Orie Wendell Shirley b: ABT. 1916

3(vi). Wallace Delbert Shirley

3(vii). Reva Wanda Shirley

2(v). Admiral D. Shirley was born April 8, 1875 Canton, Jackson Co. Iowa

married Constance Hogwall Sept 29, 1917 Denver, Colorado.

2(vi). Estella Shirley d. Nov 22, 1882 Weeping Water, Nebraska