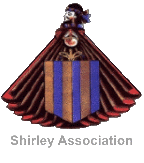 James Shirley
b. ca 1778 Virginia. Lived South Carolina, Alabama, and Arkansas

Update June 2020 - James Shirley (from below) does indeed seem to be person enumerated in Pendleton Dist SC, in 1810 census with 4 young sons and as well in 1820 census (adjacent William Shirley son of John Shirley Sr (d 1808). He also seems to be the person who purchased land from John Shirley Jr son of John Shirley Sr (d 1808), land adjacent several of the other heirs of John Shirley Sr. This proximity is highly suggestive (but not proof) that the Shirley Association has long indicated the wrong James Shirley as the son of John Shirley Sr (see Branch 2). Maybe (no proof as yet) the correct James Shirley, identified in the will as son of John Shirley Sr (d 1808 Pendleton Dist SC) is instead this lineage shown below, known as Branch 64?
1. Descendant's DNA, E1b1 haplogroup, matches a dozen Shirley branches, exactly for Branch 4 and Branch 5 without mutation
2. New DNA near match for the family of Sharp Co Arkansas to Shirley Branch #39 Kit 39124 Haplogroup R1b But, the DNA from this branch is from a known ADOPTEE, so not a Shirley Y-chromosome. However, results are 2 DNA markers off, so the near match is likely a coincidence (a larger marker test would likely confirm no match)
...
This Lineage Last Updated June 2020
James Shirley born about 1778 Virgina, age 72 in 1850 census; He is possibly (likely?) the James Shirley who was enumerated with wife and 4 young sons in the 1810 census for Pendleton Dist SC. He is also possibly (likely?) the James Shirley enumerated next to William Shirley (son of John Shirley Sr d 1808) in the 1820 census for Pendlton Dist SC. If so then he would have also been the James Shirley who purchased 108 acres of land near Camp Creek Pendleton Dist from John Shirley Jr (son of John Shirley Sr d 1808), land adjacent several other heirs of John Shirley Sr. James Shirley moved to St Clair Co Alabama by 1824 when he secured a BLM land patent for 80 acres in neighboring Etowah County (Not enumerated in 1820 St Clair state census) He was enumerated in the 1830 census for St Clair County AL age 50-60, with wife, 3 sons and 2 daughters still living in the household at the time; Enumerated again in St Clair Co AL in 1840 census age 60-70 years old; By the 1850 census, he and his family, except for son Lewis Shirley, had moved to Lawrence Co Arkansas; He and his wife Nancy lived at Piney Fork, Lawrence County at the time of the 1860 census. He was age 83, born Virginia; His wife Nancy was age 73 born South Carolina. James Shirley was taxed on 400 acres of land in Lawrence County in 1861, 1 horse and 8 cows; They are buried Providence Cemetery in Sharp Co. AR.
1820 Pendlton Dist SC Census: James Shirley pg 228 021210 20010

Male 26-45 (James of St Clair AL b 1778 VA, age 42 in 1820)
Male 16-26 (Lewis b 1802 SC, age 18 in 1820)
Male 16-26 (Aaron Franklin b 1804 SC, age 16 in 1820)
Male 16-18 (see Aaron Franklin)
Male 10-16 (John b 1807 SC, age 13 in 1820)
Male 10-16 (James Jr b 1809 SC, age 11 in 1820)
Son Benjamin Shirley born 1823, after the census

Female 26-45 (Nancy b 1787, age 33 in 1820)
Female 0-10 (Elizabeth b 1816, age 4 in 1820)
Female 0-10 (Emily Ann b 1818, age 2 in 1820)

A family group sheet submitted in 1986 to the Shirley Assoc by Sharon Jenkins Shirley states that the following James Shirley was born in Culpeper Co VA (likely not true) to Benjamin Shirley and wife Elizabeth Hughes. The latter claim, which counters claims of another Shirley connection long posted to this webpage, is very interesting since recent DNA results did indeed exactly match those for the Benjamin Shirley branch. Update: the census profile for Benjamin Shirley does not allow for an additional child. All children accounted for in the census.

married Nancy _____ at about 1801, likely in South Carolina. She was born about 1787, age 73 in the 1860 census, born South Carolina. Is there any evidence of Nancy's parents? What is the proof her surname was Smith as long claimed by many researchers?

Sharon Jenkins' group sheet also suggests that wife Nancy Smith was "possibly" the daughter of Nimrod Smith. However, Nimrod Smith's daughter Nancy married John Kay. Others have claimed Nancy was the daughter of Wyatt Smith and wife Eliz Sandford as "Nancy Elizabeth" (although no evidence they had a daughter Nancy and this claim is likely confusing marriage claims for a different James Shirley of Branch 2) Confirmation of all this needed.

children:

2(i). Lewis Shirley born about 1802 South Carolina; He died July 11, 1867 Baine Co. AL (later Etowah Co), Lewis was a farmer and wagon maker. Shirleys of St Clair Co Alabama

Descendant's DNA, E1b1 haplogroup, matches large number of USA Shirley branches

2(ii). Aaron Franklin Shirley born about 1804 (supposedly at Abbeville Co. South Carolina?); He is living at Jefferson, Independence Co AR in 1850; d. Sharp Co. AR, Shirleys of Independence Co Arkansas

married 1) Sarah Melton Sept 10, 1825 in St Clair Co. AL; She is the wife in 1850 census.

married 2) Margaret Jones April 10, 1853 in Independence Co. Arkansas, b. 1821 Tennessee.

children:

3(i). Elisha June Shirley born 1830 St. Clair Co. AL; Living in Jefferson, Independence Co AR in 1860; He died Oct 1, 1910 Polk Bayou, Sharp Co. AR

"Elisha, was born in Alabama in June 1829. This family moved to Arkansas sometime between 1841 and 1849. After moving to Arkansas, Elisha married Caroline Seaton August 15, 1853. Carolina came to Arkansas from Tennessee. They settled around Polk Bayou area in what was then Independence County. Elisha served as a corporal in the infantry during the Civil War." - Rowena Shirley Satterfield.

married Caroline Seaton Aug 15, 1853 in Independence Co. AR. She was born Dec 15, 1835 TN d. April 2, 1916 Polk Bayou, AR and was the daughter of Martin Seaton and Louisa (unknown surname)

children:

4(i). James Washington Shirley born July 9, 1855 d. Jan 1, 1927

4(ii). Mary E. Shirley born 1857

4(iii). Elizabeth Shirley born 1858 AR

4(iv). Nancy J. Shirley born 1859

4(v). William B Shirley born. June 3, 1867 d. Nov 30, 1912

4(vi). Warren Shirley born June 29, 1869 d. July 30, 1958

"Elisha and Caroline's third son, Warren Shirley, married Mary John Martin. They bought a farm three miles southeast of Mt. Pleasant from Mord Conyers (the Mord Conyers Cemetery is located on this farm) and raised their family of ten children there. Their children were: Worthem, "J.W." who married Mary Simpson and ran a sawmill in Mt. Pleasant many years; Dorcas, died as a teen; Mary Olive married Robert Ewing Evans; Homer Warren married Ollie Conyers (granddaughter of the afore mentioned Mord Conyers); marcus married Armitha Crafton of Sidney; Vernie married Owen Anderson; Arthur married Effie Johnson of Cave City; Clemmie married Quimby Shaw; Elgin never married. Shirleys have served in the Izard County government. Benjamin F. Shirley, grandson of James, served as Izard County assessor from 1904- 1908; then served again as county treasurer from 1916-20. The Shirleys attended church at the Old Pleasant Valley Church for many years and at least two of the boys grew up to become ministers, both well known in Izard County. Arthur Shirley, who once pastored the Antioch Church near Zion and the Providence Church at Mt. pleasant, was instrumental in getting this church moved to Mr. Pleasant. Homer Shirley, Jr. son of Homer Shirley and Ollie Conyers, pastored many churches among them the Sidney Baptist Church. Homer Shirley Sr. was an elder in the Barren Fork Church at Mt. Pleasant. Many of the Shirleys are buried in the Old Pleasant Valley Cemetery, as well a the Mord Conyers Cemetery (east of Mt. Pleasant) and Barren Fork Cemetery." - Rowena Shirley Satterfield.

4(vii). John S. Shirley born 1872 AR

4(viii). Lucy Ann Shirley born 1876

3(ii). Mary Shirley born 1832 St. Clair Co. AL

3(iii). Andrew J. Shirley born 1835 AL; living with parents in 1850 census, age 15; nothing more known

3(iv). Elizabeth Ann Shirley born Feb 28, 1838 AL, d. Sept 10, 1924 Conway Faulkner Co., Arkansas, m. Levi Edmond Watson Sept 23, 1858 in Jefferson Twp Independence Co. Arkansas. He was born June 7, 1838 AL d. Feb 15, 1915 Conway, Faulkner Co. AR

3(v). Letitia Shirley born 1842 St. Clair Co. AL

3(vi). Jasper Shirley born 1843 AL; living with parents in 1860 census, age 19; nothing more known

3(vii). Sarah Shirley born 1849 AL

2(iii). John Shirley born 1807 South Carolina (never married) He is living with his parents in the 1850 census

2(iv). James Shirley born Sept 3, 1809 Anderson Co. SC. He died Aug 18, 1887 and is buried at Maxville Cemetery. Shirleys of Sharp Co Arkansas

(Adoptee) Descendant's DNA, haplogroup R1b1

2(v). Elizabeth Shirley born 1816 South Carolina. Living with her parents in the 1850 Lawrence Co AR census

2(vi). Emily Ann Shirley born 1818 Pendleton SC. She married Bennett Watkins Dec. 26, 1833 in St Clair Co Alabama

2(vii). Benjamin S. Shirley born Mar. 10, 1823 Pendleton SC; He was a justice of the peace and performed the marriage of his nephew Benjamin P Shirley, son of brother James Shirley; He lived at Piny Fork in Lawrence Co AR in 1860, age 34. He lived at Johnson Sharp Co AR in 1880 census, occupation Miller. He died Mar 10, 1922 in Sharp Co. AR. Buried Maxville Cemetery.

married Mary A Watson Nov 17, 1844 in St Clair Co, AL. Age 39 in 1870 census. She was the daughter of Levi Watson and Jane Owens

children:

3(i). Nancy Jane Shirley born Oct 13, 1845 in Alabama. She died Jan 26, 1929 Boswell Arkansas. Buried Vest Cemetery in Izard Co AR. She married Albert Harvey Vest Jan 24, 1867 in Independence Co. AR. He was born Jan 15, 1844 Morgan Co. AL and d. July 18, 1904 in Boswell, Arkansas.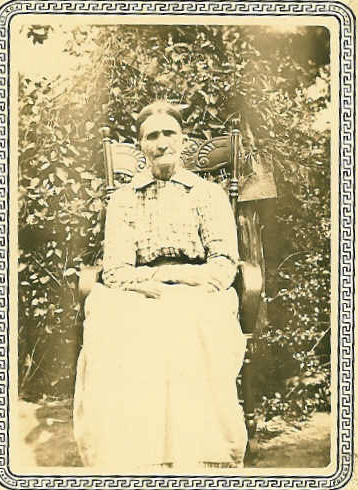 Nancy Jane Shirley

(source: Mary Jones)
3(ii). Emily F Shirley born about 1847 in Alabama, age 13 in 1860 census

3(iii). Martha C Shirley born about 1849 in Alabama, age 11 in 1860 census

3(iv). Elizabeth C Shirley born about 1854, age 16 in 1870 census

3(v). Benjamin Franklin Shirley born about 1860, age 11, in 1870 census, age 20 living in his parents' 1880 census household

married Anne C. Henderson Oct 14, 1880

children:

4(i). Chester S Shirley born 1888

4(ii). Ernest Shirley born 1894

4(iii). Joyce Shirley

4(iv). Naba Shirley born 1899

3(vi). Mary A. Shirley born about 1863, age 7 in 1870 census
---
Email received July 2010
I have information on Shirley Branch number 64. I just wanted to give more information on my branch of the family. You see the site did not include a lot of information on my Great Grandfather, Tom Grant Shirley. He was James Shirley's Great Grandson. It only gave his date of birth March 4, 1992. We have records proving that he served in WWI. He married two women; Girtha Lee Getts and Eula MaeRay. Between these two women he had about 10 children. My family line comes from his marriage to Girtha Lee Getts. Many of his sons served in the military. His son Herman was in the Navy and I believe resides/resided in Australia. Many His son my Grandfather, Edward James Shirley, served during the Vietnam War. My Grandfather was born March 16, 1938 and died October 28, 2009. He married three times: first to Marie Defalco (Italian descent and lived in Virginia), second to Grace Reeves, and third to a woman named Dianne. His first marriage brought him in this order Katherine (She has been married but I forget her married name), Edward, and then my father Anthony Carmine Shirley. Katherine has one son named Jarrod, who is also currently active in the military and they live in Virginia. Edward currently lives in Galveston, Texas. Uncle Edward has been married before and has been widowed. He has no children. My father, Anthony C. Shirley, has been married about four times. His second marriage to my mother, Sherri Raye Cook (her first married name is Philips and third married name is Putman), is the only one to 'bring forth a live child'. I, Megan Danielle Shirley, was born Dec. 11, 1989 and currently reside in Greenville, SC. From Grandfathers fourth marriage, is my Aunt Allison. Aunt Allison was born in 1990/1991.
I was wondering about how to access military records pre-civil war. If you could help, it would be very appreciated.
If you would like to get in touch with me, you may e-mail me at meggiemoe17@gmail.com, call me at 864-525-8518, or write to me at 37 Echols Dr., Greenville, SC 29605.
Thank you,
--
Megan D. Shirley