John Shirley, Sr.

born say 1735; In 1783, he was taxed in Spotsylvania Co VA with 7 slaves, 4 horses and 9 heads of cattle. He died sometime after 1795 in Spotsylvania Co VA;
May 10, 1791. John Shirley, jr., and Frances, his wife, of Spots. Co. to Jonathan Clark of same county. £22 10s. curr. 129 a. in Spots. Co., conveyed to sd. Jno. Shirley, jr., by his father, John Shirley, Senr., etc.,wit: Thomas Turner, Edmund Clark, James Wilson, John Shirley, SR., William Arnold. ref: deeds 11791-1794 page 444

married Elizabeth________. (It has been suggested her name may have been Thomas, but there is no proof). She is named in a 1785 Spotsylvania Co VA deed record.

Sept 10, 1785, John Shearley and Elizabeth, his wife, of Spots. Co., to Samuel Luck of same county, 10 pounds currency, 9 acres of land etc... wit: Nicholas Payne, Thomas Shirley and Frances Hodges. ref: Deed book K page 391

children:

1(i). Dorothy Shirley born about 1758. She received legal title to a slave from her father in 1795. She married Henry Dodd

Jan. 12, 1795 John Shirley Sr. of Berkeley Parish, Spots. Co., to his daughter, Dorothy Dodd, deed of gift, a Negro girl, et. Wit: Thomas Shirley, Morady Morris and James Crawford. ref: deeds 1794-1797

1(ii). John Shirley, Jr. born April 1760 Berkeley Parish, Spotsylvania Co. VA; Revolutionary War Soldier; He initially enlisted in the "marine service" of the United States under Capt Gabriel Jones on the ship Venture; His father at one point hired James Kemp as his subsitute in the war; He moved from Virginia to Adair Co KY in 1807;The family lived in Mercer Co. KY before settling in Adair co. KY. He applied for a pension for his war service in Dec 1832, at age 72 in Adair Co KY; He died Mar 12, 1840 Adair Co. KY. SAR Certified

May 4 1840 WB D Page 256 Will of John Shirley; Written: Mar 19 1838; Wife: Francis Shirley; remainder to be equally divided among my children viz: George Shirley, John W Shirley, Nancy M Coleman, Polly Rogers and Betsey Bailey. Exec: Joseph H. Coleman and George Shirley; Recorded: May 4 1840

married Frances Yates on Nov. 25, 1782. (source, family bible) She died Sept 22, 1843 Adair Co. Kentucky. (note: the death date cannot be correct as Frances Shirley appeared before a KY official regarding her husband's pension on that same date)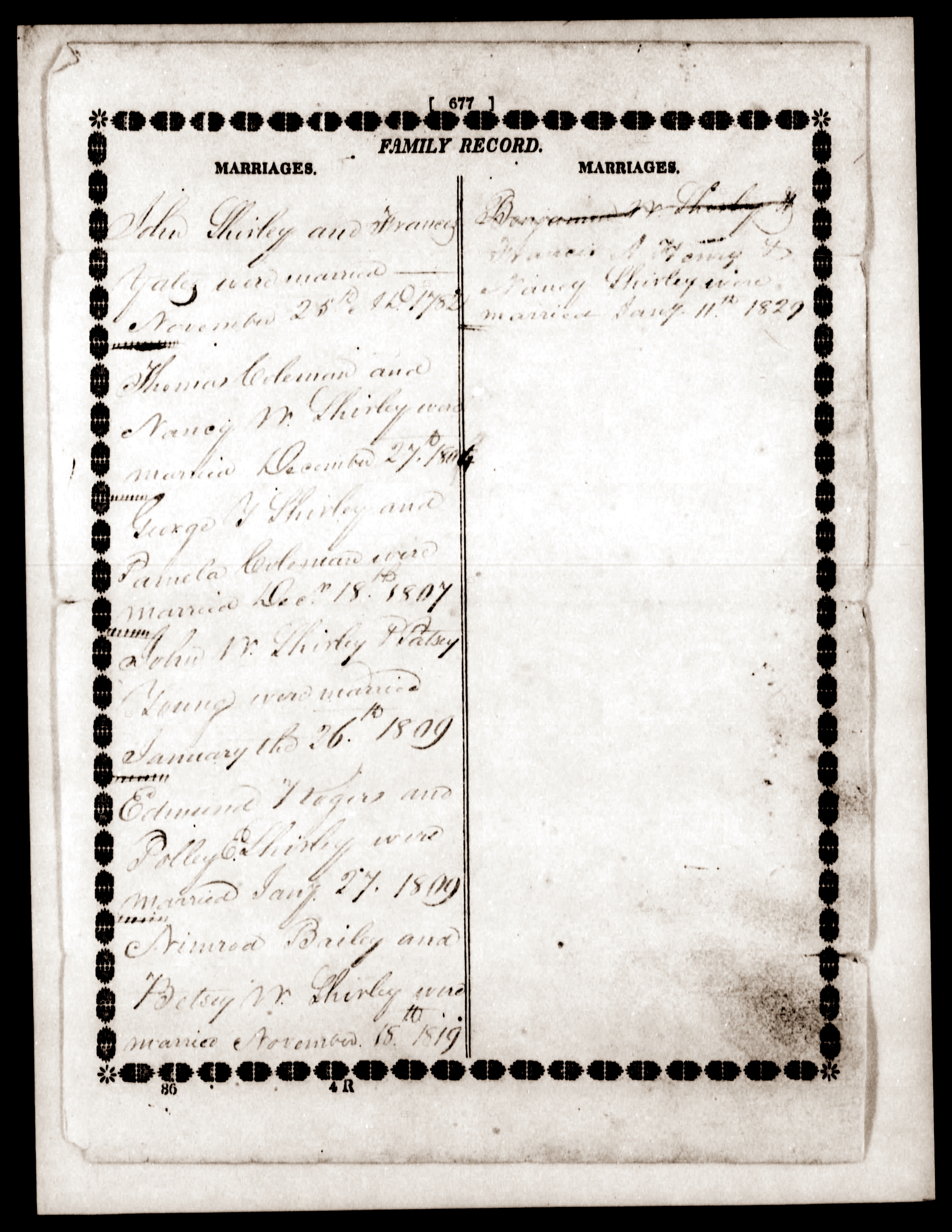 children:

2(i). Nancy W. Shirley b abt 1783; She married 1st Thomas Coleman, Dec 27, 1804, (source, family bible); She married 2nd, Francis A. Henry Jan 11, 1829

2(ii). George Yates Shirley b abt 1785; living in East Fork PO, Metcalfe Co KY in 1850 and 1860 census, age 76, widower; Thomas W. Shirley age 16 living in the HH both census. Earlier Adair Co census indicates may only have had one child, a daughter.

married Pamela Coleman, Dec 18, 1807 (source, family bible)

2(iii). Colonel John Warfield Shirley b Dec 28, 1787 d. Feb 27, 1837, (his birth shown on another bible page, not shown above) SAR Certified

married Patsy Young, Jan 26, 1809. She was the daughter of Philip Young. Patsey was born June 27, 1788 and d. Dec 9, 1828. (source, family bible)

2(iv). Polly E. Shirley born about 1789; She married Edmund Rogers, Jan 27, 1809 (source, family bible). He founded the city of Edmonton, Metcalf Co KY

2(v). Betsey W. Shirley 1792 She married Nimrod Bailey, Nov 18, 1819 (source, family bible)

2(vi). Benjamin W. Shirley b Oct 22, 1797 (source, family bible, another page not shown above); not named in the LW&T of his father

1(iii). Thomas Shirley of Adair Co KY born March 21, 1761 Berkeley Parish, Spotsylvania Co. VA, d. April 17, 1820 Adair Co. KY. (See branch #11 for his family).

married Molly Yates April 5, 1788 Caroline Co. VA.

1(iv). Phoebe Thomas Shirley born about 1763. She and her new husband received 70 acres of land and 2 slaves from their respective parents in 1788. She married John Crawford. He died and left a will in Spotsylvania Co VA in 1797.

Oct 27, 1788, James Crawford Sr. and John Sherley, Sr. of Spots. Co. , for the natural love and affection they have for John Crawford and Phebe, his wife, of same county, deed of gift, 70 acres in Spots. Co., and two slaves, etc. Wit: John Waller, Thomas Turner, William Arnold, Thomas Hicks, John Shirley, JR. and James Crawford Jr. ref: Deed book M page 424

1(v). Catherine Shirley She died 1833 Cumberland Co. VA, Some of the family moved to Jackson TN; She married William Anderson d. 1795 Cumberland Co. VA.