1(iii). George Shirley born about 1760 PA, died in Olive Township Morgan County Ohio on May 8, 1824 25 November 1826 in his 66th year of age. He was buried at Wagner Cemetery in Morgan County (now Noble County) Ohio. George and Ruhanna lived near Saxton in Bedford Co. PA. He served during the Revolutionary War as a fifer in Captain Lawrence Keene's Company , Colonel John Patton's Regiment of Foot, Continental Troops. He enlisted Apr 24, 1777 and his name last appears on the company pay roll Apr 1779.
(Editor: This Rev'l War fifer was much more likely George Shively, not Shirley. I checked all the service and payroll cards. With one exception, all the cards are Shively as well as all other related original PA documents. The DAR now shows this warning by George Shirley in their database FUTURE APPLICANTS MUST PROVE CORRECT SERVICE; MOB- UPDATED PLACES TO BE HISTORICALLY ACCURATE. RES, SERVICE, AND AGE NOT ).
The Shirleys left Bedford Co. PA and went to Ohio. They built a raft and with all of their household goods, went down the Monongahela River to Pittsburgh and then down the Ohio River to Marietta, Washington Co. Ohio. His will was probated in 1827 in Morgan County OH.
1827 April Term Morgan County Ohio Probate Court; Volume 0 page 19 - Will of George Shirley of Olive Township, Morgan Co OH. Bequeath to my beloved wife Rhuhannah Shirley all my real estate lying in Olive Township, a part of the SW qtr of Sec 29, 50 acres with all my personal property during her life time. After her death to my eldest son John Shirley $1. Bequeath unto my two daughters Mary Ogle wife of George Ogle and Betsy Keith wife of Adam Keith $1 each. To my younger son Lewis Shirley all the remains of the above described lands and tenaments together with the personal property at the death of my wife. I also bequeath to my two elder sons William and Joseph Shirley $50 a piece to be paid in meat stocks. Appoint Joseph Shirley sole executor. 8 May 1824. <s> George Shirley. Wit: Dennis Gibbs, Wm H Shackler, Shurliah Clark [Proven April 1827; Case file located in Box 2]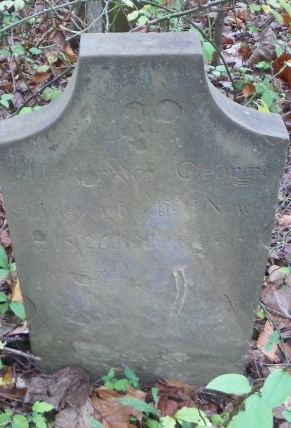 "In Memory of George Shirley who died Nov. 25 1826 in the 66 year of his age"
Wagner Cemetery, Three Forks, Morgan (now Noble) Co Ohio
(source: findagrave)
married Ruhannah Norris. She was the daughter of Joseph Norris, born Jan 11, 1729 Washington, Co. Maryland and Mary Moody born Dec 11, 1730 Wales. She married 2) James Dobbins on 27 June 1827 in Morgan Co OH

children:

2(i). John Shirley born about 1787 Olive Twp, Huntington Co. PA, died Mar 5, 1853 Rome Twp. Athens Co. Ohio. John enlisted in the War of 1812 at Marietta Ohio office in May of 1813. He was a private under Capt. Absalom Martin and General William H. Harrison. He served in the Ohio Militia under Capt. Hill.

married 1st Catherine Shanklen May 14, 1811 in Washington Co. Ohio born 1792 d. 1821.

married 2nd Maria Mathews June 20, 1822 in Morgan Co. Ohio May 10, 1797 VA d. Sept 27, 1887 Rome, Athens Co. Ohio.

2(ii). Mary Shirley married George Ogle 1813

2(iii). William Shirley born about 1789 in Pennsylvania. He sued his non-resident brother Joseph Shirley in Chancery Court in Morgan Co OH in 1839 where he was enumerated in 1840 census. Was living with brother John in 1850 Athens Co OH and with sister-in-law Maria Shirley in 1860.

From Ohio, Morgan Co., Marriages, 1828, p. 141, #595 -The State of Ohio, Morgan County
I do hereby certify that on the 14th of December last I joined together in the holy state of matrimony William Shirley and Barbary Keith of lawful age. Given under my hand this 23 of Febr AD 1829. Jonathan Hughes J. P.

From 1830 Ohio census Morgan Co., Center Twp, p. (20) - William Sherley: 1 male 30-40; 1 female 20-30.

From 1840 Ohio census, Morgan Co., Center, p. ? - Wm Shirley: 1 male 50-60; 1 female 30-40.

From 1850 Ohio census Athens Co, Rome Twp., p.?, dwelling #1406, family #1421 - age 61. Born in Ohio. Living with brother John Shirley. Occupation: laborer

From 1860 Ohio census Athens Co, Rome Twp, p. 159 (221), dwelling #1557, family #1520 - age 71. Born in Pennsylvania. Personal property value $600. Living with sister-in-law Maria Shirley. Occupation: retired farmer

married Barbara Keith in Morgan Co OH on 14 December 1828.

2(iv). Joseph Shirley born March 25, 1793 Huntington Co. PA, In 1837 they moved to La Porte Co. IN, then to Winnebago IL by 1840. He died Aug 11, 1864 Poyner Twp. Black Hawk Co. Iowa. Shirleys of Black Hawk County Iowa

married Elizabeth Keith Dec 6, 1814 in Washington Co. Ohio. She was born April 11, 1798 Huntington Co. PA and died Oct 5, 1868 Poyner Twp. Black Hawk Co. Iowa.

2(v). Betsey Shirley born July 21, 1797, died 1830. She married Adam Keith in 8 Aug 1815 Washington Co. Ohio.

2(vi). Lewis Shirley b. ca. 1799 PA, Resided in Ohio, then LaPorte Co IN. Moved to Winnebago Co IL about 1835.

Lewis Shirley was reared to man's estate in his native town, and when attaining mature years removed to Ohio and resided for a time on the Muskingum River. He later went to Indiana, where he was one of the pioneers in La Porte County, and, entering from the Government a large tract of timber and prairie land, there made his home until 1835, which was the date of his advent into Illinois. He was accompanied hither by his wife and a family of six children, making the journey with teams. Mr. Shirley settled in what s now Cherry Valley Township, at a time when Northern Illinois was owned by the Government, and the surveys of that early day had not been completed. The father made a claim to a tract of land, and later, when the land came into market, went to the land office in Dixon and entered his tract. The elder Mr. Shirley erected on his new place a double log house in which he established his family, and industriously commenced the work of clearing and improving his farm. He was very successful in his undertaking and added from time to time to his acreage until his estate included twelve hundred acres. He erected a saw and flonring mill, which he operated in addition to farming and which netted him a handsome income. He continued a resident of the above-named farm until his decease. The maiden name of his wife was Julia Keith, a native of Ohio, who departed this life on the home farm in Cherry Valley Township. Her parents came to Winnebago County and located on the creek which was named after the father, and which extended through Rockford Township.

- Portrait and Biographical Record of Winnebago and Boone Counties, Illinois

married 1st Julia Keith on Sept 21, 1819 Morgan Co. Ohio. She was the daughter of Peter Keith. She died in 1837.

married 2nd Mary O'Hara and she died in 1887.

children (by Julia)

3(i). Silas Shirley born Feb 1823 in Morgan Co OH; He moved to Santa Clara Co CA by 1870 census; He was living in the Santa Clara Co alms house in 1910 and died sometime after in Milpitas District, Santa Clara Co. CA Shirleys of Santa Clara California

United State Patent Office, Silas Shirley of Santa Clara California; Letters Patent No. 78,141, dated May 19, 1868; Improvement in Tire [Wagon Wheel] Tightener; To all whom it may concern: Be it known that I, Silas Shirley, of the city and county of Santa Clara, State of California, have invented an Improved Device for Regulating the Set of Wagon-Tires; I hereby declare the following description and accompanying drawings are sufficient to enable any person skilled in the art or science to which it most nearly appertains to make and use my said invention or improvements without further invention or experiment. My invention relates to an improved device for regulating the set of wagon-tires, so that they can be easily made to fit closely when the wheel becomes dry, or they may be slackened, if so tight as to warp and alter the shape of the wheel, the whole work being easily done by the teamster without either taking off or cutting the tire.

married 1) Mary Ann Leaman born about 1829 died after 1860

married 2) Lucy B. Marsh on 12 Dec 1861 in Winnebago Co IL; She died in San Jose CA in 1906 during the San Francisco earthquake. Her first husband was Barross; Dau of Russell and Averill Marsh

Posted in the Sacramento Bee newspaper, April 17, 1906. SAN JOSE, CA - _Mrs. Lucy B. Shirley, a native of Rockford, Ill, died this morning at her home in this city, aged 88 years. She leaves her husband, Silas Shirley, several married children and many grandchildren and great grandchildren. She was a prominent member of Ladies of the Grand Army of the Republic.

children:

4(i). Sarah A. Shirley born Oct 1850 in Winnebago Co. IL

4(ii). George L. Shirley born 10 Apr 1853 in Winnebago Co. IL; died 17 Apr 1945

married Viola E Howe West

4(iii). William Wesley Shirley born 5 Apr 1855 in Winnebago Co. IL; died 14 Jun 1939

married Cora H. Stowe

3(ii). Mary Ann Shirley born 15 March 1819 Morgan Co. Ohio

3(iii). Jane Shirley born Feb 1826

3(iv). Adam Keith Shirley born 10 Oct 1829. According to tradition, he was the first white child born in LaPorte Co. Indiana; He was living in Winnebago Co IL in 1880 census; He died 10 May 1913

married Anne E. Shipley on 25 Dec 1869 in Boone Co IL. (wife was Mary in 1880 census)

children: (1880 census)

4(i). Frances Shirley born about 1871 IL

4(ii). Emerson Shirley born Jul 1874 died 22 Mar 1910

3(v). Lewis Shirley , Jr. born Jan 12, 1833 LaPorte Co. IN,

In 1859, Lewis Shirley went to California making the entire journey overland with ox teams. At that time there were no white settlements on the plains and the buffalo and antelopes were numerous. After five months travel, he arrived in California and was engaged in mining, and then began dealing in wood. Eventually he returned to his home and farming. He once again became engaged in the wood business and was very successful. His estate was one of the finest in the county containing five hundred and seventy five well improved acres.

married 1st Leah Ream Nov 3, 1861 in Boone Co IL. She died Feb 28, 1876

married 2nd Sohia Z. Smith, Mar 14, 1880.

children (by Leah)

4(i). Celestia Sophronia Shirley

4(ii). Flora F. Shirley died age 13 of Scarlet fever

4(iii) Caroline Alice Shirley died 1903

4(iv). Roswell Ream Shirley

4(v). Gertrude Shirley died age 7 of Scarlet fever

4(vi). Delbert Wallace Shirley born about 1876 Boone Co. IL

child (by Sophia)

4(vii). James Lewis Shirley "Jay" born Jan 23, 1884

3(vi). Charles W. Shirley born 17 August 1835 in LaPorte Co IN. He lived in California and then returned to Boone Co IL then Winnebago Co IL. Member of the Continental Methodist Church.

CHARLES W. SHIRLEY. This gentleman, ~ who is now living retired from active work of any kind, formerly owned an excellent tract of land of ninety-one acres, one-half mile from Rockford, to the cultivation of which he gave his personal attention. He has, however, platted the greater part of it into city lots, which he has disposed of at a handsome advance. He was born in LaPorte County, Ind., August 17, 1835, while his father, Lewis Shirley, was born in Pennsylvania. As far as is known, the grandfather of our subject was also a native of the Keystone State, where he spent his entire life. Charles W. Shirley was an infant when his parents came to Illinois, and, being reared to manhood in a new country, the hardships and privations which they were called upon to endure have made lasting impression upon his mind. There were no railroads in this vicinity for years, and while an inmate of the parental household he often hauled grain to Chicago, which was seventy-five miles distant. After reaching his twenty-first year, he worked for his father one season, and then, employing a good carpenter at $1 per day, built a house on the land which he purchased from his father, in Boone County, and in the spring of 1857 moved into the dwelling before it was lathed or plastered. He was engaged in farming there for two years, when, renting his estate, he went to California via New York and the Isthmus of Panama. Going into the mines in Placer County, Mr. Shirley was thus engaged for sixteen months, at the end of which time he returned home via the same route and commenced farming in Boone County. In 1868, he sold the farm and purchased land in Cherry Valley Township, Winnebago County, where he was employed as an agriculturist until 1883. Then coming to Rockford, he became the proprietor of a good home in the city and later bought a farm of ninety-one acres, located one-half mile from Rockford. As before stated, he has platted this into lots and sold. Miss Matilda A. Ream was married to our subject in 1856. She was a native of Thompson Township, Seneca County, Ohio, and was the daughter of Samuel and Sarah Ream, natives of Philadelphia, and later pioneers of Seneca County. The two children comprising the household of Mr. and Mrs. Shirley are Lafayette B. and Jessie C. The son married Katie Pratt and is the father of two children: Nettie and Dayton. Jessie became the wife of Frank L. Lake and has one child, Francis A1meda. Our subject and his wife are members of the Centennial Methodist Episcopal Church, and in politics Mr. Shirley votes the Republican ticket.

- Portrait and Biographical Record of Winnebago and Boone Counties, Illinois

married Matilda A Ream in 1856; She was born in Seneca Co OH, dau of Samuel and Sarah Ream, who originated in Philadelphia PA

children:

4(i). Lafayette B Shirley

married Katie Pratt on Dec 7 1881 in Winnebago Co IL

children:

5(i). Nettie Shirley

5(ii). Dayton Shirley

4(ii). Jessie C Shirley; She married Frank L. Lake


3(vii). Elizabeth Shirley