Misc info for John 1728 branch #13
_____________________________________________________________________________________
Birth and death dates come from grave markers in family plot in a small cemetery on the Nelson farm, midway between Newry and Catfish, near the James Hammel farm, also known as the Kladder Cemetery, Blair Co. PA. as stated in the Altoona Tribune, Mary 30, 1914.

In the same plot is Nicholas McGuire, also American Rev. Soldier, d. 1813 age 60, his wife, Ann Dorcas (dau of John and Charity Shirley), d. Feb 25, 1843, age 82.

Also in the same plot is Sarah McGraw (no dates), who according to Ann Docas McGuire, in her will, was her sister to whose children, Edward and Mary McGraw, she gave an inheritance; also gave $100 each to the "lawful children of my sister and Peter McGuire". (Charity Shirley m. Peter McGuire). Ann Dorcas listed the names of all the children, the children were...Charity, Patience, Catharine, Michael, John and Patrick McGuire.
___________________________________________________________________________________
NOTE: Nicholas and Peter McGuire are sons of Capt. Michael McGuire and his 1st wife, Patience. They were born on Great Pipe Creek farm, Frederick Co. near Taneytown, Maryland.
John Shirley is a brother of William Shirley (branch #14). John and William Shirley held land in common in 1769 for a grant in Cumberland Co. PA, later Bedford Co. PA.
John Shirley first appeared in PA in the tax records of 1786. He is listed in Frankstown Twp., 100 acres, 2 Negroes, 1 mare, 1 gelding and 2 cows.
John Shirley's name appears on the rooster signed at Hagerstown, Maryland for service in protection of Maryland and the colonies against the British forces.
1763: land in Parks Hall, MD, John and Charity Shirley
1767: Colonial Wars... John and William in Capt Moses Chaplins Company. (A prominent family of Washington Co. MD).
1783: Lower Antietam Hundred, Washington Co. MD, John, William and George Shirley. Also Edward McGraw.
1788: John and William Shirley living in Woodbury Twp, Huntington Co. PA (on Clover Creek).
1788: The assessment of 1783 Lower Antietam, Washington Co. MD: page 40 William Shirley, page 36 John Shirley and George Shirley.
From the Waterloo Courier, Waterloo, Iowa, Monday Evening, May 28, 1906

GEO. SHIRLEY PASSES AWAY

Pioneer of Poyner Township Passes to the Beyond. He Came to Black Hawk County Iowa in 1858.

George Shirley, a pioneer settler of Black Hawk county Iowa, passed away at 6 o'clock Sunday morning at his home, five miles east of this city, at the age of 85 years. The funeral will be held at 2 o'clock tomorrow afternoon from the house and burial will be in Poyner cemetery. The funeral is held from the home because of the ill health of Mrs. Shirley, who has been very frail since last December. The pall bearers will be chosen from among the pioneers of this part of the county.

Mr. Shirley came to Black Hawk county in 1858, settling on a farm of 800 acres east of this city, to which was later added 200 acres. He was born in Morgan Co., OH., Dec. 22,1821. He came here with his parents bringing his household effects in wagons overland. He drove four horses and eleven head of cows, making the journey without mishap or inconvenience, although the country was filled with Indians. Mr. Shirley by his industry and improved methods of farming brought his big farm under an ideal state of cultivation. The buildings were abundant and built for the comfort of the stock and the convenience of those who cared for them. The Shirley farm has long been known as an ideal country home, with orchards and shade trees in abundance and with all of the improvements which comfort and convenience could suggest.

Mr. Shirley was twice married. His first wife was Louisa Clogston, who died in Illinois, leaving one son, George, who is a resident of Oregon. On May 21, 1857, Mr. Shirley married Hannah S. Pierce, who was born in Delaware Co., N. Y., and reared in Pennsylvania. The children of the second marriage were Elizabeth A., Joseph, Bird, B., Abbie, Della and Dora (twins), and Charles. Joseph lives on the home place; Bird B. has been a teamster in Waterloo, Alvin A. a farmer in Barclay, Abbie is the widow of Charles Kimble, of Knox Co., Neb., Della is the wife of William Prangley of Hancock, S. D.; Dora is the wife of Edward Engle of Sioux Falls, S. D., and Charles is a private in the United States army, belonging to the 32nd regiment coast artillery, stationed at Ft. Baker, Calif. Mr. Shirley was a member of the Methodist church and was a devoted Christian.

info from Constance Westcott and posted May 20th, 2002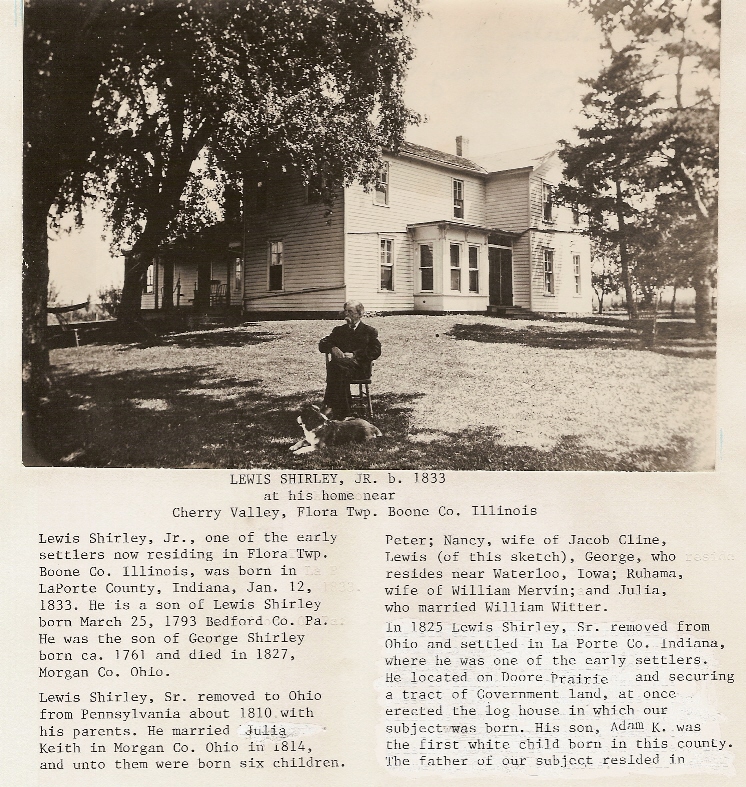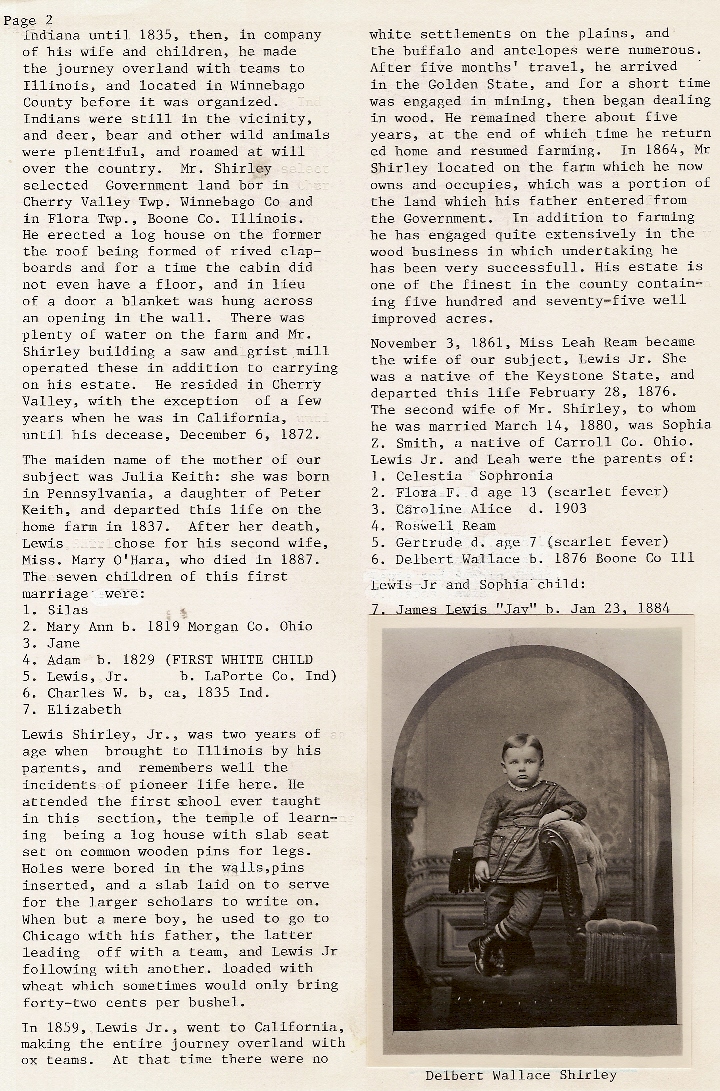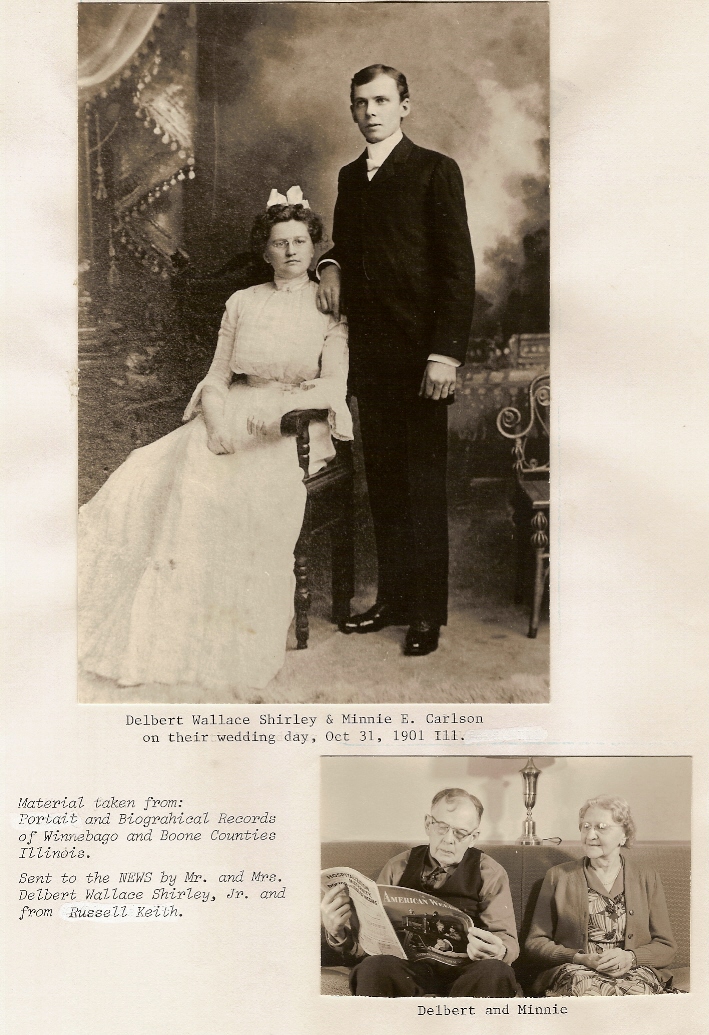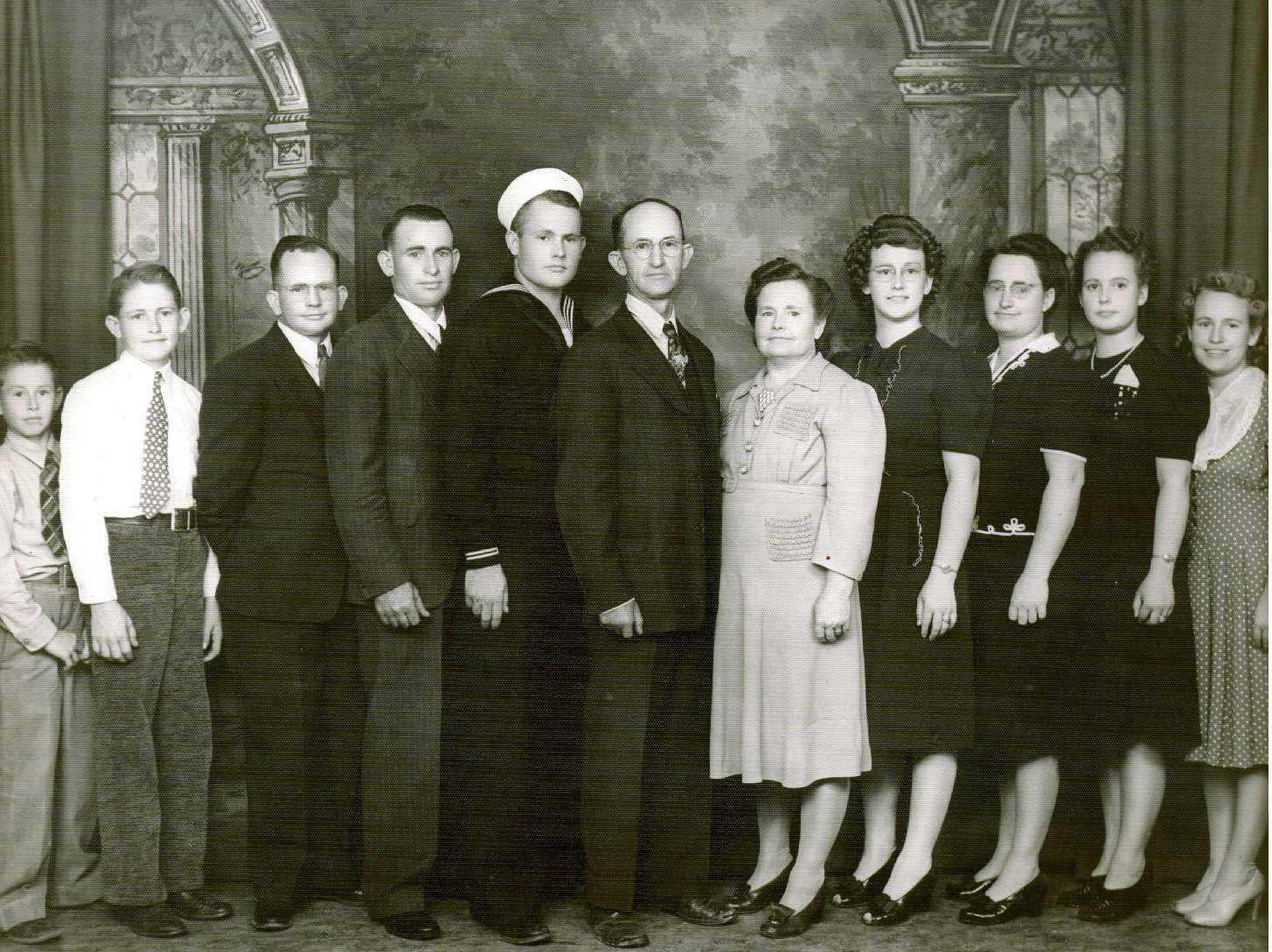 Left to right: Guy, Vernon, Lloyd, Lynn, Winfred, Owen Parmer Shirley (father), Millie Kate Haley (mother), Ila, Maxine, Mildred and Opal.
Guy is the husband of Betty Shirley, your editor. He is 75 years old and the last surviving person in this photograph (2007).
etc.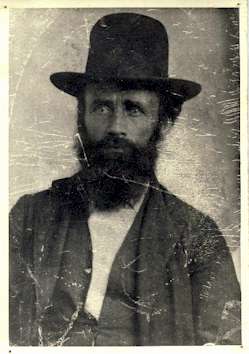 Silas Shirley father of Owen Parmer
_________________________________________________________________
Norris Family
George Norris 1672 Fleet Bay _____, married Judith Horton daughter of Tobias Horton 1651 Lancaster Co. VA d. Aug 12, 1748 m. Martha Brent Sept 10, 1673 Lancaster Co. VA, she was born 1658 Lancaster Co. VA died about 1710 VA., daughter of Hugh Brent 1620 Kent Co. England, died Mar 13, 1671 Lancaster Co. VA, m. 1st. Mary Ochersone 1654, born 1635 Lancaster Co. VA, m. 2nd Mary Acherson 1656. She was born 1635 Lancaster Co. VA died 1663 Lancaster Co. VA
children:

1. John Norris No info available for sibblings

(1). Joseph Norris, Sr. born January 11, 1729 Sharpsburg, Washington County Maryland, died Mar 18, 1813 Penn Twp. Huntington Co. PA, married Mary Moody born Nov 30, 1730 Wales, died Dec 17, 1817 Penn Twp. Huntington Co. PA. She was the daughter of William Moody Sept 18, 1692 Stinchcombe, Gloucestershire Co. England and Mary Young.

They lived in Sharpsburg near Hagerstown until they moved to Pennsylvania with some of their grown children. Some descendants say it was about 1763 others say it was more like 1781.

They settled on the Raystown branch of the Juniata River and he acquired a farm that had belonged to the Sanders family who had all been killed by Indians in 1780. This farm of 390 acres was at that time in Hopewell, Twp. of Bedford Co. PA. Later it became part of Penn Twp. in Huntington Co. PA.

Children:

A. Elizabeth Norris Oct 11, 1750, m. Adam Mover

B.. Eleanor Norris April 17, 1752, m. Adam Metcalf

C. John Davis Norris March 16, 1754

D. William Norris Feb 7, 1756

E. Mary Norris Jan 25, 1760, m. Peter Wagoner

F. Lida Norris Oct 10, 1761, m. John Garney

G. Sarah Norris Nov 3, 1763, m. David Jackson

H. Ruhannah Norris Dec 21, 1765 m. George Shirley 1761 PA died May 8, 1824 Morgan Co. Ohio (parents of John Shirley born 1787 Olive Twp, Huntington Co. PA, died Mar 5, 1853 Rome Twp. Athens Co. Ohio who is the father of Silas Shirley, father of Owen Parmer Shirley). (parents of John Shirley born 1787 Olive Twp, Huntington Co. PA, died Mar 5, 1853 Rome Twp. Athens Co. Ohio who is the father of Silas Shirley, father of Owen Parmer Shirley).

I. Nancy Ann Norris Jan 1, 1766, m. Hugh Johnson

J. Ruhama Norris born Dec 21, 1767

K. Jane Norris Aug 19, 1772, m. William Enyeart

L. Joseph Norris Jr. Aug 18, 1774 Bedford Co. PA