My Shirley Roots
My grandmother was Indiana Josephine Shirley of Marshall County Alabama, USA. She was the daughter of Marcus Lee Shirley and the granddaughter of John Newton Shirley, a civil war veteran who was born in Anderson County, South Carolina in 1834. Of course, that makes me part of the Shirley family who originated in Prince William County Virginia: Branch #2.
My Background
I grew up in Albertville, Alabama and graduated from the University of Alabama in Tuscaloosa majoring in Finance. After graduation, I went to work for Merrill Lynch in New York City and worked on the company's NASDAQ trading floor. My work with international equities (something Americans weren't doing at that time) was very successful and led to a new job working for the legendary investment billionaire, Sir John Templeton, who operated out of the Bahamas. Years later and after another stint in Manhattan, this time for Prudential, I went off to the University of Edinburgh, Scotland for my MBA degree.
Both of my parents passed away (2 weeks apart) during the latter part of my studies. So I completed my masters dissertation and came back to Alabama to handle things - and I basically never left. I started my own institutional investment consulting practice in North Alabama working with corporations and notably with the $1.5 billion Alabama Oil and Gas Trust. It was then that I became involved in teaching finance at the University of Alabama in Huntsville.
At this very moment (December 2007), I am attending the University of St Andrews, Scotland working on my PhD in Finance. Over the next few years, I will live part-time in St Andrews and part-time in Alabama.
I've been working with Betty Shirley and the Shirley Association diligently for almost 15 years. She has consistently been my largest email recipient over the dozen or so years as we hashed and rehashed the research question of the day. My continued work for the Shirley Association will be a pleasureable (and needed) distraction from this other research quest.
Come visit me in Scotland! And definitely, drop me an email saying hello.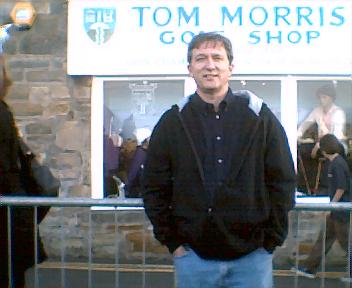 Here I am in front of the famous Tom Morris Golf Shop next to the 18th green on the Old Course at St Andrews, Scotland during the 2007 Dunhill Cup golf tournament.
- Ken