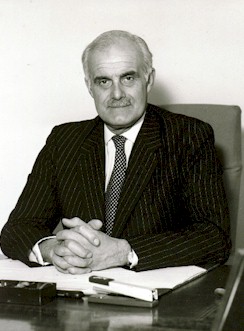 Robert Washington Shirley, 13th Earl Ferrers

Earl Ferrers descends from Robert Shirley, the first Earl Ferrers of the 1600's, and his wife, Elizabeth Washington. This branch of the Shirleys lived at Staunton Harold in England.
Lord Ferrers was educated at Winchester College, Magdalene College, Cambridge and, has an MA in Agriculture. He was with the Coldstream Guards in Malaya. On the death of his father in 1954, he became the 13th Earl Ferrers. He is married and the father of 2 sons and 3 daughters. One of his sons is Robert William Saswalo Shirley, VISCOUNT TAMWORTH . He will inherit the title, and become the 14th Earl Ferrers.
Currently:
Lord Ferrers, of course, is no longer a member of the Government, as the Labour Party was elected in 1997.
He was probably the longest serving member of the Conservative administration. He served 18 years, serving under 5 Prime Ministers... Harold Macmillan, Lord Home, Sir Edward Heath, Mrs. Thatcher and Mr. Major. He was Duputy Leader for 14 years.
The present Government has removed the Hereditary Peers. It decided, during the progress of the Bill, to retain about 100 of them, and this would be by election.
The Conservative Hereditary Peers voted for 42 of their number to remain in the House. Lord Ferrers was chosen and was at the top of the poll.
Lord Ferrers has been High Steward of Norwich Cathedral since 1979. He is a Fellow of Winchester College, and is now the Sub-Warden.
HOBBIES: Shooting, music and travel.
An article in the London Times recently stated the Lord Ferrers is popular and imposing and enjoys a penchant for practical jokes.
Political Appointments:
Lord -In-Waiting to H.M.Queen and Government Whip 1962-64, 1971-74
Parliamentary Secretary, Ministry of Agriculture, Fisheries and Food 1974
Joint Deputy Leader of Opposition, House of Lords 1976-79
Deputy Leader of House of Lords 1979-83
Minister of State, Ministry of Agriculture, Fisheries and Food 1979-83
Minister of State, Home Office 1988-94
Deputy Leader of House of Lords 1988-97
Minister of State, Department of Trade and Industry 1994-95
Minister of State, Department of the Environment, (Minister for the Environment and Countryside), 1995-97
Commercial Appointments
Trustee, Est Anglian Trustee Savings 1957-75
Trustee, Trustee Savings Bank of Eastern England 1975-79
Chairman, Trustee Savings Bank of Eastern England 1977-79
Member, Central Board Trustee Savings Bank 1977-79
Director, TSB Trustcard LTD. 1978-79
Director, CEntral Trustee Savings Bank LTD. 1978-79
Dirtector, Norich Union Insurance Group 1975-79, 1983-88
Director, Chatham Historic Dockyard Trust 1984-88
Chairman, British Agriculture Export Council 1984-88
Director, Economic Forestry Group plc 1985-88
Member of Council, Food from Britain 1985-88
Other Appointments
High Steward, Norwich Cathedral 1979 to present
President, East of England Agricultural Society 1979
Privoy Counsellor 1982
Deputy Lieutenant, Norfolk 1983
President, Royal Smithfield Show 1984
President, Royal Norfolk Agricultural Association 1984
Member, Governing Body of Rothamsted Agricultral Experimental Station 1984-88
Sub-Warden, Winchester College 1988 to present
Fellow, Winchester College 1988 to present