This lineage was constructed by the Shirley Association using Scottish census, IGI births and marriages, newspaper items
This Scottish family originated in Stoke on Trent Staffordshire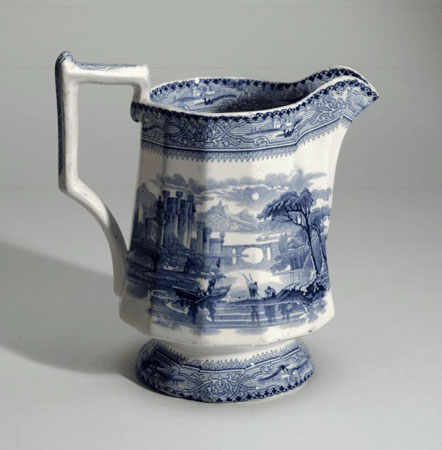 Story of the Clyde Pottery, Greenock Renfrewshire Scotland
"In 1841 William and Thomas Shirley took over the lease to the Clyde Pottery works and associated flint mill and traded as Thomas Shirley & Co. with John Milligan as managing partnet/director. In the same year the Ladyburn Pottery which was run by James Stevenson got into difficulties so Thomas & Co. also took over over the lease of the Ladyburn Pottery. The combined enterprise being known as the 'Greenock Potteries'.
The first five years of the business does not seem to have been very successful as by 1847 the lease had been sold on again to John Milligan who carried on for two years before passing the lease on to John and William Shirley, relations of the previous leaseholders in 1849. In the same year the lease of the Ladyburn Pottery was passed on to Clough and Geddes who mismanaged the business leading to sequestration in 1850.
The Shirleys were from a Staffordshire potter's family and William had previously worked as an engraver in the pottery industry. His skill was probably used in providing new patterns for decorating the wares. The pottery produced all varieties of cream ware types at this time and specialised in transfer patterns for decoration. Many of the wares of the period are marked with a beehive and the initials TS & Co. In 1852 an entry in Slater's Commercial Dictionary of Scotland stated:GREENOCK POTTERIES THOMAS SHIRLEY & CO. EARTHENWARE MANUFACTURERS DINNER, BREAKFAST AND TEA WARE, DESSERT AND TOILET SETS, FOR HOME TRADE AND EXPORTATION
1855 was to prove a fateful year for the Shirley business when they decided to expand and take over the Larne Pottery. This was done through forming a partnership with James Farie and procured a nineteen year lease of the Lame Pottery at the sum of £100 per annum and a mansion house with six acres of ground which was situated near the Pottery was also leased for the sum of forty pounds yearly. A further £350 was spent on the premises.
Alexander Copeland was appointed as manager by William Shirley but things soon started to go wrong. Farie appears to have used money from one firm to subsidise the running of the other without the knowledge of William Shirley. The liabilities of the business were three times the assets and in 1857 it went bankrupt taking the Clyde Pottery with it.
The final statement on the Shirley period of the Clyde Pottery came with lease notice in February 1857:"
POTTERS STOCK AND LEASE OF PREMISES
FOR SALE, BY PRIVATE BARGAIN, THE WHOLE STOCK in TRADE and Utensils belonging to the Estate of Messrs Thomas Shirley & Co., Potters and Earthenware Manufacturers, Greenock Potteries, Greenock, consisting of a general assortment of Clost and Biscuit Ware, Clay, Colours, and a well-assorted Stock of Copper Plates, Blocks, Moulds, and Cases, together with Horses, Carts, etc., and a Lighter suitable for carrying Coals and Clays to the Pottery. The Works, which include a Flint Mill, have all the necessary facilities for carrying on a Large Business, are in excellent condition, and Leased at a Low Rent, and the Lessees have within the last Eight years laid out a large sum in improvements. Above Six Years of the Lease have yet to run. and any respectable party would be accepted as Tenant. This affords a very excellent opening for Parties desirous of carrying on such a business, the Works being long established and very eligibly situated. Immediate Possession can be given, so that a Purchaser could at once commence operations and retain the current orders for Ware. Further particulars will be learned on application to Robert Wright, Writer, here; or to the Subscriber, Trustee for the Creditors of the said Thomas Shirley & Co.
JAMES WELSH, Trustee 18, Cathcart Street, Greenock, 10th February, 1857
Newspaper Articles
Thomas Shirley & Co., Greenock Take over Clyde Pottery Co previously run by Andrew Muir sen and jun Greenock Advertiser 01/06/1841

Thomas Shirley & Co., Greenock Defence of Company's action towards few workmen who are union members by majority of pottery workers. Details of dispute| Greenock Advertiser 10/01/1845

Thomas Shirley & Co., Greenock Pottery workmen defend Thomas Shirley & Co. In their dealings with the unions over yearly contracts. Details. Greenock Advertiser 10/01/1845

Thomas Shirley & Co., Greenock Details of fire at Pottery in packing room which has been completely gutted Greenock Advertiser 03/06/1851

Thomas Shirley & Co., Greenock Entertain workers to supper in new ware-room Greenock Advertiser 07/01/1851

Thomas Shirley & Co., Greenock Workers hold annual fete Greenock Advertiser 02/01/1852

Thomas Shirley & Co., Greenock Stock and lease of property including flint mill for sale Greenock Advertiser 10/02/1857




---

1. Thomas Shirley born about 1786 England. He married in Norton in the Moors parish, Staffordshire, England. Enumerated at Greenoch East Scotland in 1841 census. b 1791. He was owner of the Clyde Pottery, Greenock Renfrewshire Scotland; He died 22 October 1850, age 64
Shirley, Thomas 1850 Thomas Shirley died at the Clyde Pottery, Greenock on 22nd October 1850 age 64 (Greenock Advertiser 25.10.1850)

Scottish Wills and Inventories: Shirley Thomas 11/6/1855 potter and earthenware manufacturer residing at the Clyde Pottery near Greenock, spouse of Mary Grindy Paisley Sheriff Court


married Mary Grundy on 7 December 1807 at Norton in the Moors, Staffordshire, England. She was born about 1787 England; Living in Greenock West Scotland in 1861 census; She died 24 Jun 1865, age 78

Shirley, Mary 1865 Mary, widow of Thomas Shirley, Clyde Pottery, died at 12 Regent Street, Greenock on 24th June 1865 age 78 (Greenock Advertiser 27.6.1865) see Thomas

Children:

2.i John Shirley died 13 Sept 1849 at Greenock Scotland

Deaths: Suddenly on the 13th instant, Mr John Shirley, eldest son of Mr Thomas Shirley (from Cholera), Clyde Pottery, Greenock.Glasgow Herald (Glasgow, Scotland), Friday, September 14, 1849

married Maria Steen on 22 Dec 1834 at Stoke Upon Trent, Stafford, England

Shirley, Maria 1849 Maria, widow of John Shirley, died at Clyde Pottery, Greenock on 15th September 1849 (Greenock Advertiser 21.9.1849)

1849 Deaths: On the 15th instant after a short illness, Maria Shirley relict of Mr John Shirley, Clyde Pottery, Greenock - Glasgow Herald (Glasgow, Scotland), Friday, September 21, 1849;

2.ii Anne Shirley born about 1816 England; age 25 in 1841 census. She is listed in the 1851 census of Grennock East as a spirit dealer, born Staffordshire England; She died 7 August 1871

Kirkman, Anne, wife of John Kirkman and daughter of late Thomas Shirley, Clyde Pottery, Greenock, died at Murray Street, Glasgow on 7th August 1871 (Greenock Advertiser 10.8.1871)

married John Kirkman on 29 (26) Nov 1851

Kirkman, John Kirkman to Ann, 2nd daughter of late Thomas Shirley, Greenock Potteries, at Greenock on 29th November 1851 by Reverend Charles Cole (Greenock Advertiser 2.12.1851)

26 Nov 1851 at East Parish, Greenock, Renfrew, Scotland

2.iii William Shirley born about 1821 Staffordshire. age 19 in 1841 census; may be the same William Shirley in the 1851 household of his "mother" Margaret Shirley, pottery clerk; Unmarried in the 1861 census of mother Mary Grundy Shirley

Shirley, William 1872 William Shirley, formerly of Clyde Pottery, died at 12 Regent Street, Greenock on 17th July 1872 (Greenock Advertiser 20.7.1872 & Greenock Telegraph 18.7.1872) see Margaret

2.iv Elizabeth Shirley chr 31 March 1825 at St John's Burslem parish, Staffordshire, England, to Thomas and Mary Shirley. Age 15 om 1841 census. She was born about 1825 England, age 36 living with mother in 1861 census; She died Nov 1886 age 61, apparently unmarried.

Shirley, Elizabeth 1886 Elizabeth, daughter of late Thomas Shirley, Greenock Pottery, died at 73 Nicolson Street, Greenock in November 1886 age 61 (Greenock Telegraph 8.11.1886)
A grandaughter Margaret Shirley b 1846 Scotland is living with grandmother Mary Grundy Shirley in 1861 census