---
1900 US Census Heads of Household (identified of Indian ethnicity)
Name, age, sex, ethnicity, birthplace, residence, county, location

SHIRLEY HARRY 24 M I OK OK INDIAN RESERVATION WICHITA INDIAN RESERVATION
SHIRLEY JAMES 23 M I ITER ITER CHEROKEE TWP 16 N RANGE 24 E
SHIRLEY SALLIE 20 F I IA ITER CHEROKEE TWP 16 N RANGE 23 E
1910 US Census Heads of Household (identified of Indian ethnicity)
Name, age, sex, ethnicity, birthplace, residence, county, location

SHIRLEY HARRY 40 M I OK OK CADDO DELAWARE TWP
SHIRLEY WALTER 24 M I AZ AZ APACHE NAVAJO INDIAN RESERVATION
1920 US Census Heads of Household (identified of Indian ethnicity)
Name, age, sex, ethnicity, birthplace, residence, county, location

SHIRLEY HARRY 21 M I NM NM SAN JUAN NAVAJO INDIAN RESERVATION
SHIRLEY JIM 34 M I NM NM MCKINLEY NAVAJO INDIAN RESERVATION
SHIRLEY RUSHIE 37 F I OK OK GARVIN 3-WD; WYNNEWOOD
No earlier census identifies any Shirleys of native american origin.
1911 Equity Case 7071
The following names are excerpted from the Equity Case 7071 in the United States Court for the Southern District of the Indian Territory. The legal brief, list the names of approximately 2,000 Choctaw and Chickasaw Freedmen claiming to have "Indian Blood", that should have granted them status as "citizens by blood" in the two respective nations.

The case was generated from a demand that their names be transferred from the freedmen rolls to the blood rolls during the Dawes Commission enumeration in 1898. The case wound its way finally to the Supreme Court of the United States on December 12, 1911. The case unfortunately was never argued before the justices, for the failure of the plaintiff's attorney's to file ?a printed brief?, and was subsequently dismissed. [list of litigants]

Albert SHERLEY
Bell SHERLEY
Calis SHERLEY
Victor SHERLEY
---
Joe Shirley elected Navajo Nation President
WINDOW ROCK, Ariz. - Navajo voters elected Joe Shirley by a landslide as the new Navajo Nation president Nov. 5. Shirley, an Apache County Commissioner from Chinle, Ariz., handily defeated incumbent Kelsey Begaye by a vote of 31,406 to 23,964, according to unofficial results posted for 108 of 110 chapters on the Navajo Nation.

In an interview the morning after the election, Shirley said he was very grateful for the people's confidence in him, and ready to go to work on their behalf.

"I feel elated that the Navajo people supported us in the way they did," he said. "We really appreciate that and we know there's a lot of work to be done."

He interpreted the wide margin as a mandate for change. "Three quarters of the people who voted in the primary said they wanted a change. They repeated that mandate in the general election, and we are going to bring them that change."

Shirley and his running mate, vice-president elect Frank Dayish of Shiprock, N.M., promised to respect the people's mandates and work to create better education opportunities and more jobs for the Navajo Nation's 300,000 members.

Shirley led a grassroots campaign during the past year by visiting more than 80 of 110 chapters on the Navajo Nation. He promised to bring a more effective form of government to the Navajo people, which has been dominated by the legislative branch comprised of 88 council delegates representing 110 chapters.

The first thing on the morning-after agenda for Shirley and Dayish was a trip to KTNN, the Navajo Nation's 100,000-watt radio station, where they recording taped messages of thanks to Navajo voters.

"We wanted to say thank you and express our deep appreciation to all the Navajo people and to our Creator," Shirley said. "It's very important to not forget the people who got you there and that was my first priority."

That was followed by meetings with current President Kelsey Begaye and the nation's financial services staff to make plans for the two-month transition.

"Come inauguration time in January, we want to hit the ground running so we are putting together a transition team and a budget for the transition. We want to put a freeze on unnecessary expenditures and start looking at people for our cabinet."

Education is the number one priority for Shirley and Dayish, according to the message they consistently delivered to voters during their yearlong campaign visiting Navajo communities.

"We feel education is the way to get people to become independent, to get good jobs so they can have homes and take care of their families," said Shirley. "We want our Navajo children to learn to be independent and sovereign, so we're going to put a lot into education."

Shirley said he is looking forward to working with Congress and the Bush administration to help Navajo initiatives toward self-sufficiency.

"I come from a Dine' belief that we are all the five-fingered people and we can work together no matter what our political parties. With prayer and concern for our people, we can reach out and make good things happen for our people."

Shirley said President Begaye was gracious in conceding when he visited the Shirley camp's election night gathering at Nakai Hall on the Navajo Nation fairgrounds where they awaited election results.

"He offered us his help and we agreed to put the campaign behind us. We need to become one again as Navajo people and move forward from here."
---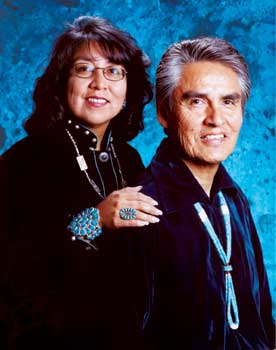 Joe Shirley Jr.
Joe Shirley Jr., 55 was born on December 4, 1947 in Chinle, Arizona. He is of the Todich'iini clan, born for the Tabaahi clan. His maternal grandfather is Tse'naaginii and his paternal grandfather is Tsenjiikini.

Shirley, raised by his grandmother since he was a toddler has called Chinle his home all of his life. He has genuine love for people from all walks of life. He enjoys playing basketball, running and spending time with his family. One of his greatest enjoyments is lecturing on the Navajo way of life for self-development.

He is married to Vikkie and they have six children, three daughters and three sons. His wife Vikki is Kiyaa'nni born for the Ma'iidesh giizhnii clan. Her parents are Victor Moses and Gladys Begay of Lukachukai, Arizona.

A 1966 graduate of Chinle High School in Chinle, Arizona, Shirley went on to earn his Associates of Art Degree in 1968 from Magic Valley Christian College in Albion, Idaho. His continued pursuit of education found him at Abilene Christian University in Abilene, Texas where he obtained his Bachelor of Science Degree, majoring in Business. In 1978, Shirley earned a Master of Social Work Degree from Arizona State University in Tempe, Arizona.

Shirley contributed sixteen years to the social services field, and from 1983 to 1984 he served as Executive Director of the Navajo Division of Social Services.

His public service is vast, including serving on the Navajo Nation Council from 1986 to 1999 where he was the Chairman of the Labor and Manpower Committee, the Advisory Committee from 1987 to 1991, Chairman of the Tax Commission from 1991 to 1995, and member of the Intergovernmental Relations Committee and Chairman of the Ethics and Rules Committee from 1995 to 1998. Shirley was elevated to Apache Country Supervisor in 1984, a position he recently retired from in January. In 1996, he was appointed to the Board of Directors of the National Association of Counties (NACo) in Washington D.C., which comprises of over 3000 counties throughout the United States. He is also a member of the Economic and Community Development Committee of NACo, as well as received an appointed to serve as a member of the Sustainability Leadership Team. In 1997, he served as a member of the Advisory Committee to the President's Commission of Sustainable Communities in Washington, D.C. and from 1985 to 1991 a member of the Public Lands Committee. He has already grained national attention by being appointed by Native American leaders to co-chair both the BIA/Tribal Budget Advisory Council and the Sovereign Protection Initiative. Since taking office in January as the sixth President of the Navajo Nation, he successfully led the Shirley-Dayish administration into the future. President Joe Shirley, Jr. has a true commitment to serve the Navajo Nation and its' people by giving power back to them.Wikipedia article
---
NAVAJO
1910 Apache County AZ Census - Indian Reservation
Walter Shirley 29 b AZ Full Navajo
Mrs Shirley 22 b AZ Full Navajo
Joe Shirley 3 b AZ Full Navajo
1900 Apache County AZ Census - Indian Reservation
Walter Shirley b 1884 AZ Full Navajo (parents full Navajo) Schoolboy living at school
Shirleys of Apache County Arizona
---
See Branch #80 John Shirley. His wife was Indian. They gave an Indian name to their son.
---
A FUNNY STORY!
By your editor, Betty Shirley
About 7 years ago, we were having some telephone problems. It seems that the phone company for years has been pulling lines from here and there as they expanded. It had become a mess. They brought in telephone repair people from many areas to come into this area and help reroute the lines and upgrade. As this was being done, our phone became cross switched with our neighbors somehow and for two weeks we had no phone. We called into complain and they eventually came out to fix it.A few days after it was finally fixed, we noticed a telephone repairman on the telephone pole out in front of our house. We feared they would mess up the connection or something. Remember, we had been without telephone service for 2 weeks. When my husband saw him, he yelled up to him and told him not to mess up our lines. He wasn't to nice the way he said it. Well, the fellow took it kindly and after he came down, he asked us to check our phones. He told us what he was doing and about the old system being upgraded, and how they have brought him to help, etc. As we stood there talking, I noticed his name badge. His surname was SHIRLEY. Of course we had a conversation about the Shirleys. He descends from the Indian Shirley family in AZ. What an experience that was. Never know who you might be yelling at, do you?
---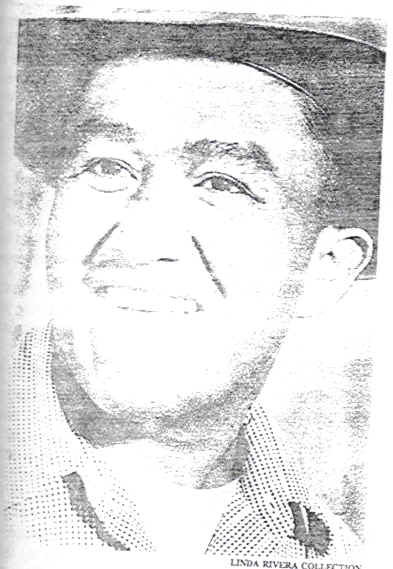 Ben Shirley
The Ben Shirley family are of Navajo ancestry. Ben had grown up in Arizona and when he was in his early 20's he brought his family to Kelso California. He went to work for the Union Pacific railroad company in 1945. He purchased a small house on the east side of town and raised a family. He served on the Kelso school board.
On his days off from the railroad work, Ben would often take on various jobs on several of the East Mojave cattle ranches doing mostly fence and corral construction.
His wife passed away in 1967. His children were in their teens and younger.
His father died in 1980 in Arizona.
Several of the family still live in the Barstow area of California.