This Lineage Last Reviewed and Updated May 2021
_____ Shirley of Ireland, father of Dr. John Shirley and William Shirley of Caddo Co Oklahoma Territory
married _________ mother of Dr. John Shirley and William Shirley of Caddo Co Oklahoma Territory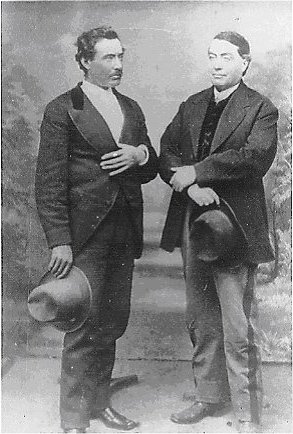 "This is a photo of William Shirley and Dr. John Shirley. I recall that Dr. John Shirley's daughter stated that he was the post physician for the Confederate contingent stationed briefly at Fort Cobb. I can't guarantee that he was an official officer. William Shirley, however, would have been part of the Caddo Battalion, Fort Cobb, composed of certain
whites, and Indians around Fort Cobb, commanded by Caddo George Washington. Washington formed the unit at the request of the Confederate government to defend the western part of Indian Territory. He agreed with the specific
proviso that he did not have to engage whites. He fought a pitched battle with the Kiowa in 1864, defeating them soundly." - submitted by Mike Tower to Oklahoma GenWeb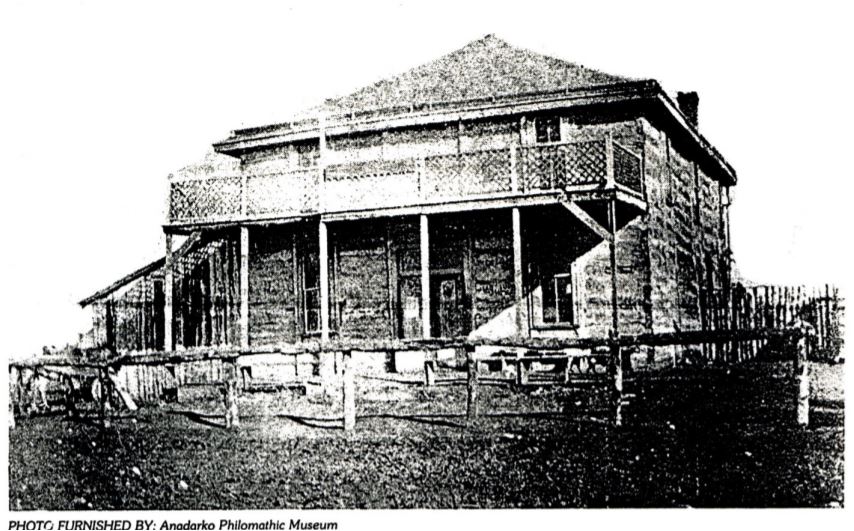 Shirley's Trading Post
Caption: In 1875, the Government desired to establish a post office at the Agency, then called, "Shirley Trading Post", located just north of Washita River. Mr William Shirley was the only white man, at the time, permanently located in this section. He was the first white Government interpreter for the Indians and formerly a trader from New Orleans. He first came to the Indians as a trader in 1856. He moved with the tribes here, as interpreter, in August 1859. He married Habunista, a Nadarko Indian maiden, daughter of the old Chief Tomas, in 1867. Their only child, a son named Harry Edwards Shirley was born 3 May 1869. Habunista died in 1873. The first Agency established in 1859 near present site of Anadarko (1901 History of Anadarko)

Source: Shirley International News 1988 pg 12 - Betty Shirley: "This picture is from a calendar given to me at our Oklahoma City OK meeting of Shirleys Oct 1986. It was given to me by Vivan Williams, grandaughter of William Shirley. Shis is the daughter of Harry Edwards Shirley."
These are Catholic Families

children:

1(i). Dr. John Shirley, frontier post physician and merchant Indian trader of Caddo Co Oklahoma; born 28 December 1827 in Ireland; Family tradition passed down through one of his daughters says John Shirley and brother William Shirley came to the United States through the port of New Orleans and enlisted in the US war with Mexico, which is where John Shirley secured medical training, and thus became known as 'doctor'. After the Mexican War, Dr John Shirley elected to work with the US government Indian Agency to provide medical services to the native populations, likely first at Fort Belknap in northern Texas, where John Shirley and his wife and family were first enumerated in the US Census, age 28; The Plains Indians had been herded onto reservations in 1854 – the Comanches to one established near the newly built Camp Cooper in Throckmorton County and the Caddos, Anadarkos, Wacos, Tawakonis, Tonkawas, Wichitas and other more sedentary Indians to a reservation built near Fort Belknap. Fort Belknap, where Shirley was enumerated in 1860, was abandoned by Federal troops in 1861 at the outset of the Civil War. It is clear that John Shirley moved with the Indians north into the Territory of Oklahoma to continue his medical work and trading activities. He continued serving the Wichita Agency Indians near Fort Cobb in Caddo County - likely as an official contracted officer of the US government; However, at the outset of the Civil War, Federal troops also abandoned Fort Cobb and moved to north to Fort Levenworth in Kansas - allowing Confederates to secure the facility until 1862, at which point they were burned out. After the Civil War, John and his brother William proceeded to establish a network of merchant trading operations throughout the area in the succeeding years; He was appointed the area's first Postmaster on 17 August 1874; Dr John Shirley died suddenly in 1875 ironically by accidentally consuming a poisonous medicine in error. He was buried at Phantom Hill, near Pauls Valley (source: Shirley News Vol 3 No 8 pg 9)

2021 Query Post by John Fuhring - "Hello. My great grandfather was Dr. John Shirley. According to family history, he and his brother William arrived in New Orleans from Ireland just as the Mexican War was starting. John Shirley enlisted in the U.S. Army when it marched through. He received medical training as a hospital steward during the war. After the war, he volunteered to see to the medical needs of the Civilized Tribes and the Indian Agency officials in the Indian Territory (now Oklahoma), becoming the first official government doctor there. He and his brother were well liked and trusted by the Native Americans and were allowed to set up an elaborate network of trading posts throughout the Territory before, during and after the Civil War. After the CW, he supplied the government agencies and military with food, animal feed and hardware through government contracts. His untimely death in 1875 was due to an accidental poisoning by his own medicine. I would very much like to know where he came from in Ireland and if the Shirley name can still be found in Ireland."

"Chronicles of Oklahoma" - Dr. John Shirley, [born Dec 28, 1827, Died 1875] a native of Ireland, went to Texas after his marriage to Jane Patillo of Dardanelle, Arkansas, and was employed as U.S. Government physician at Fort Concho, Texas, and thence came to Fort Arbuckle, Indian Territory, where he also served the Wichita Agency Indians near Fort Cobb, established 1859. He later engaged in the trading business with government contracts both at Fort Cobb and Fort Sill after that post was established in 1869, subsequently making his home at Cherokee Town on the Washita River. At this site, about 2 1/2 miles southeast of present Pauls Valley, Garvin County, Dr. Shirley erected the first bridge on the Washita. When the first post office was established at Cherokee Town on August 17, 1874, he was appointed the postmaster. He died suddenly of ptomaine poisoning at Anadarko, Indian Territory, and was buried at Phantom Hill, near Pauls Valley. His daughter Kate, who married R. Fryrear, a cattleman in this vicinity, died in Oklahoma City in 1956 where she had lived with her daughter, Mrs. Nora Agnes Eggleston, for the past several years.

Is this him? US Military Enlistments - John Shirley age 21 [born 1829] blue eyes brown hair fair complx 5'9 1/2" born Ireland Kilkenny, clerk enlisted Sept 30 1850 at Rochester; 2nd Drgoons Co F Discharged 30 Sept 1855 expiration of service at Fort Chadbourne Texas a private

1860 Throckmorton Co TX Census - Fort Belknap Post Office

John Shirley 28 merchant b Ireland
Jane Shirley 25 b Arkansas
Magaline 6 b Texas
Laura 4 b Texas
Hiram Aud 24 occ Teamster b MO

1860-1862 [There are various official US govt letters regarding contracts with John Shirley as well as letters penned by Shirley himself that are extant, online at Texas Tech University collection]

Peacemakers on the Frontier: A History of the Delaware Tribe (1987) "Under contract, John Shirley had built 13 double log houses, 14 single houses, and seven picket houses, and had dug a well for the Caddoes. John Shirley had been the trader on the former Comanche Reserve, and had removed with the Indians to work at the Wichita Agency. His trading house was later located on the bluff north of present Anadarko Oklahoma..."

March 26, 1875 Oklahoma Star (Caddo OK newspaper) Death of Dr. John Shirley - This widely known Indian trader died at his home--Cherokee Town, Chickasaw Nation--on the 15th last. Dr. Shirley commenced trading with the Comanche Indians some 29 years ago, and by his honest and fair dealing, won their confidence to such an extent they adopted him as one of their tribe. At the beginning of the war he had a trading house at old Fort Cobb, where he remained until the raid was made on Col. Leeper, and the Agency burned. Since the war he has resided at Cherokee Town, doing business both there and out on the frontier. Dr. Shirley was a just and upright man, warm-hearted and generous to a fault. He leaves an interesting family and a host of friends to mourn his sad and untimely end.

married (?Manerva) Jane Gafford about 1858, supposedly at Waco McLennan County Texas (surname found in death record of son Oscar, similar to 'Scafford' as found in son Lawrence Shirley's marriage record) Enumerated in the 1910 census of son-in-law Frank E Clayton and her daughter Agnes Shirley Clayton, age 73, born Kansas (sic) and her name was Manerva (sic) Shirley mother-in-law. She was born 18 September 1834 at Dardanelle, Yell Co Arkansas (various obits, 'Chron of Okla.'). She was the mother of 9 children, 4 of whom predeceased her by the time of her own death in 1914, age 80

"Burr Oak School (Dist #118 now in Grady county) was established in 1902 on land owned by Jane Shirley. She was the widow of William Shirley (sic, John Shirley), a white man who had one of the first trading post in Anadarko, the Caddo tribe adopted them, he died in 1911 after acidentaly taking poison, he thought it was medicine, he is buried at Riverside Cem North of Anadarko and in 1901 when they alloted the Caddo's each 160 acres, she was alloted land also as a adopted member of the tribe. It was located on a hill five miles west and one and one half miles north of Minco. Burr Oak received its name from a tree that was located near the school."

1914 Nov 6 - Minco Minstrel (newspaper) Pioneer Woman Goes To Her Long Home - ....Mrs Jane Shirley aged 80 at the home of her daughter Mrs J R Fryrear in Verden. Mrs Shirley was born on 18 Sept 1834 in arkansas and married in Texas and came to the Ind. Terr. 50 yrs ago. Was the mother of 9 children 4 are deceased....She is survived by 3 daughters and 2 sons Mrs F E Clayton Chickasha; Mrs J R Fryrear, Verden; Mrs L H Fuhring Union City; Oscar Shirley and Lawrence Shirley both of Verden

Another obit, with diff info - Mrs Shirley was born in Yell County Arkansas on 18 Sept 1834 and was married in Waco Texas and came to Ind Terr 50 yrs ago.......

children

2(i). Mary (Magoline?) C. Shirley born about 1854 in Texas, age 21 at the time of her marriage in 1875; She is likely the daughter "Magoline", age 6, enumerated in her parent's 1860 census household; She married Richard S Dorchester in 1875 at Fort Smith Arkansas; Enumerated with husband in Grady County in 1910 census, age 55, born Texas; She died in 1913, buried at Rose Hill Cemetery in Chickasha Grady Co OK, Not mentioned as alive in her mother's 1914 obituary.

1875 Sep 9 Marriage between Mary C Shirley b 1854 and R. S Dorchester at Fort Smith, Sebastian Co Arkansas

Interview of R S Dorchester of Tabler OK (indexed as Louis Dorchester) - "There was a bridge across the Washite River near Cherokee Town which had been built by Doctor Shirley. Doctor Shirley had secured a Chickasaw permit in 1864 and established himself as a trader .and rancher at Cherokee Town. He had revmoved there after'leaving Fort Cobb, where he went with the Texas Reserve Indians in 1854. After the Civil War he sent his four older daughters to Fort Smith to attend school. In 1875, a few months before Dr. Shirley's death, I married one of his daughters. We were married in Fort Smith....The bridge fell in-and afterwards Dr. Shirley's brother, an engineer from Mexico, came up there while I was there and drew plans for us and we put a good bridge in there. A toll charge of fifty cents was made. The same was charged at Folsom's bridge over Blue at" Nail's Crossing.The bridge near Cherokee Town was built-out of native stuff."

2(i). Laura Shirley born about 1856 Texas, age 4 in parent's 1860 census household; Likely died by 1914 (process of elimination, not mentioned in mother's 1914 obit)

2(ii). Unknown Shirley; died before mother's 1914 obituary date

2(iii). Unknown Shirley; died before mother's 1914 obituary date

2(iv). Catherine Shirley born in 1862 at Fort Cobb Oklahoma Territory (her obit); She died 1955, age 93, bur Restaven Gardens Cem Okla City, Cleveland Co OK (findagrave); She married John R Fryrear and they resided in Verden Grady County OK

2(v). Agnes Shirley born about 1863, age 47 in 1910 census; She married F E Clayton and the resided at Chickasha Grady Co OK

2(vi). Lawrence Harrison Shirley of Verden Grady Co OK born 11 March 1869 at Cherokee Town, near Pauls Valley Oklahoma Territory; lived at Dutton Caddo Co OK in 1910 census, age 31 (sic) and at Verden Grady Co OK in 1930 census; He married Della Hughes in 1895 when he was age 26 (parents named); He died 1 November 1930 at Chickasha Grady OK, buried Rose Hill Cemetery at Chickasha Grady Co OK

1930 Nov 6 The Chickasha Star (newspaper) Lawrence Shirley, age 61 years, died at his home in Verden late Saturday night following an illness of three months of paralysis, He was born at Cherokce Town, near Pauls Valley, March 11, 1869, and moved to Verden 35 years ago. He has been engaged in the farming business and operating a dray system at Verden. Shirley was always for any civic improvement for his home town, he was a man of sterling character. He'was a devoted father and husband. Funeral services were conducted at the Catholic church in Chickusha Monday morning at 9 o'clock, conducted by Father Frank Van Wees. Burial was made at Rose Hill cemetery. He is survived by his wife and four_ children, Lawrence Shirley of Verden, Oscar Shirley of Verden, and Mrs. Herman Weaver of Altus and Mrs Oda Johnson of California, All of whom werc in attendance at the funeral. He also leaves three sisters, Mra. F. E Clayton, of El Reno, Mrs. J. R. Fryrear of this city, and Mra, Fuhring of Arnett, Kansas, and one brother, O. J. Shirley of Bowie,
Texas.

married Della Hughes on 17 June 1895 at Canadian Co, Oklahoma Territory

17 June 1895 Canadian Co Okla Terr. Lawrence Shirley s/o John Shirley and Jane Scafford b Chickasaw Nation age 26 married Miss Della Hughes age 17 d/o HH Hughes and unknown mother; Wit: George E Robion, Cora Shirley

children:

3(i). Cora G Shirley born about 1896, age 20 at time of marriage in 1916; Not enumerated in parent's 1910 census; Married Herman W Weaver on 27 April 1916 at Grady Co OK; Named in the 1930 obituary of her father, living at Altus OK at the time

3(ii). Lawrence Shirley born about 1898 Oklahoma, age 12 in 1910 census; Named in the 1930 obituary of his father, living at Verden Grady Co OK at the time

3(iii). Oscar Shirley born about 1901 Oklahoma, age 9 in 1910 census; Named in the 1930 obituary of his father, living at Verden Grady Co OK at the time

3(iv). Dora Shirley born about 1904 Oklahoma, age 6 in 1910 census; She married Oda N Johnson; Named in the 1930 obituary of her father, living in California at the time

2(vii). Cora Shirley born about 1870 in Oklahoma Territory, age 35 at time of marriage in 1905, age 35 (sic) in husband's 1910 census household; She married Louis H Fuhring on 6 September 1905 at Carter Co Oklahoma; The resided in Canadian County OK and lived at Arnett Kansas by 1930

1905 September 6 Carter Co OK - Marriage between Cora A Shirley of Purcell OK age 35 and Lewis H Fuhring, of Union City, age 27

2(viii). Oscar J Shirley of Verden Grady Co OK and Parker Co TX. born 6 March 1872 at Oklahoma (his death cert); He lived at Lincoln Caddo Co OK in 1910, age 38 but moved to Parker Co Texas where he lived at Mineral Wells Parker Co Texas at the time of his sister's 1955 obituary; He died at Weatherford Parker Co Texas on 30 May 1963, age 91 retired farmer (death cert, parents named). Buried at Laurel Land Cemetery, Parker Co TX

married Mary James on 14 November 1894 at Cleveland Co Oklahoma

14 Nov 1894 Cleveland Co OK - Marriage between Oscar Shirley age 22 son of John Shirley and Jane Gafford to Mary James age 19 (parents not named)

children:

3(i). Mary Shirley born about 1896 Oklahoma, age 14 in 1910 census household

3(ii). John Shirley born 20 November 1896, age 18 in 1914 Oklahoma school lists

3(iii). Jessie Shirley (daugher) born 21 November 1898 age 16 in 1914 Oklahoma school lists

3(iv). Thomas Shirley born 19 September 1900 age 14 in 1914 Oklahoma school lists

3(v). Ellen Shirley born 23 February 1903 age 12 in 1914 Oklahoma school lists

3(vi). Roy Shirley born 2 December 1904 age 10 in 1914 Oklahoma school lists

3(vii). Edward Shirley born 18 January 1906 age 8 in 1914 Oklahoma school lists

1(ii). William Shirley merchant Indian trader of Caddo Co Oklahoma Territory born 1830 (cemetery) or 1837 (1903 census) in Ireland; Family tradition passed down through one of his daughters of brother John Shirley, says that William and his brother John Shirley came to the United States through the port of New Orleans and enlisted in the US war with Mexico; R. S. Dorchester, the husband of William's neice Mary Shirley implied in an extant interview that William Shirley may have stayed and worked in Mexico for a time after the War. Dorchester stated that William came into the Indian Territory to assist his brother John after working as an Engineer in Mexico (Editor: this is potentially a lead as to his Irish ancestory, other Irish Shirleys ventured briefly into Mexico); According to two sources, William founded Shirley's Trading Post in Indian Territory, near Anadarko Caddo County just prior to the Civil War; Apparently, the ledgers of his store accounts are extant and outline in great detail the type of goods he sold and the customers who purchased them. William Shirley was enumerated as an official US government officer acting as an interpreter in the Indian Territory in both 1869 and in 1879; William would have been about age 49 at the time; In 1901, the US government BLM awarded William Shirley 177 acres of land in Section 20, northeast of the town of Anadarko in Caddo County. William Shirley died in Caddo County in 1907 after a short illness

1869 Sept 30 - Official Register of the United States, Containing a List of Officers and Employees in the Civil, Military, and Naval Service - Indian Territory - Kiowa Agency: William Shirley Issuing Commissioner; born Ireland, Compensation $30 per month.

1879 June 30 - Official Register of the United States, Containing a List of Officers and Employees in the Civil, Military, and Naval Service - Indian Territory - Kiowa, Comanche, and Wichita Agency: William Shirley - Interpreter, born Ireland, appointed Indian Territory; Compensation: $400.

1889 July 1 - Official Register of the United States, Containing a List of Officers and Employees in the Civil, Military, and Naval Service - Indian Territory - Kiowa, Comanche, and Wichita Agency: William Shirley - Interpreter, born Ireland, appointed Indian Territory; Compensation: $300.

Chronicles of Oklahoma By Sara Brown Mitchell - "William Shirley, who had been a licensed Indian trader for many years, founded Shirley's Trading Post in 1859 to do business with the Wichitas. By studying his old ledger, it is apparent that he sold many types of articles. The following are among those listed: food, clothing, tobacco, soap, looking glasses, rope, playing cards, saws, knives, padlocks, blankets, canned goods, hunting equipment, candles, ribbon, and buffalo robes. It is interesting to note that Shirley outfitted General Albert Pike, who in August of 1861 purchased a large amount of supplies from Shirley. Jesse Chisholm was quite a steady customer in the spring of 1862. Of course, Shirley sold a great deal to the white men of the Agency and a large quantity to the Indians of that area. Apparently, there was a Negro who was also a frequent customer. The Wichita Agency was re-established in 1871. It was situated across the Washita River north of the present site of Anadarko. Shirley's store was set-up near by. This was the period of the Quaker Agents,and Jonathan Richards was the first one sent here."

1901 History of Anadarko - In 1875, the Government desired to establish a post office at the Agency, then called, "Shirley Trading Post", located just north of Washita River. Mr William Shirley was the only white man, at the time, permanently located in this section. He was the first white Government interpreter for the Indians and formerly a trader from New Orleans. He first came to the Indians as a trader in 1856. He moved with the tribes here, as interpreter, in August 1859. He married Habunista, a Nadarko Indian maiden, daughter of the old Chief Tomas, in 1867. Their only child, a son named Harry Edwards Shirley was born 3 May 1869. Habunista died in 1873. The first Agency established in 1859 near present site of Anadarko

June 14, 1907 The Anadarko Tribune (newspaper) Vol. 6 No. 43 William Shirley Dead - William Shirley, one of Caddo County's pioneer and a highly respected citizen, died at his home north of Anadarko last Thursday morning. He had been ill only a few days. Funeral services were conducted at the by Father Isadore. Mr. Shirley came to this country in 1859 and had resided on his farm since that time where he died.

married Habunista in 1867. She was a native woman of the Nadarko tribe, daughter of the 'old chief Tomas' (History of Anadarko) She was supposedly the last remaining member of the Nadarco tribe according to a statement made by her son Harry Shirley.

Vinita Daily Chieftain (newspaper) 1912 Aug 5 - William Shirley who died in 1910 married the last member of the Nadarko tribe of Indians and his son Harry Shirley is the only living survivor of the Nadarko tribe. The name Anadarko came about in this way: A govt official visiting the tribe desired to select a name for a post office. Shirley was an Irishman and when the official asked him for a suitable name, he said "Call it Nadarko" in honor of my wife" The official did not catch the answer clearly because of Shirley's brogue and wrote it Anadarko and so the name has survived. Shirley had been in the Caddo country for many years and was a very old man at his death. He had built a sort of castle about a mile and a half north and east of Anadarko the remains of which are still standing. There are also some springs named in his honor.

children:

2(i). Harry Edwards Shirley born 3 May 1870 Oklahoma (tombstone) or 3 May 1869 (History of Anadarko), only child of William Shirley and native wife Habunista; Offiically registered as Native American and enumerated in numerous Native censusus. In 1901, the US government BLM granted him 154 acres of land in Section 20, south-southwest of the town of Anadarko, located in Caddo County; He was married and living at Delaware PO Caddo Co OK in 1910 census, age 40, enumerated again at Caddo Co in 1920 census, age 48, farmer, Race: Indian; He died on 26 October 1953, age 83, buried at Memory Lane Cemetery, Anadarko Caddo Co OK.

1902 Feb 25 El Reno Evening Bell (newspaper) - Homestead Entry Refused. Son of the last Anadarqua Indian makes application to file - Harry Shirley a half breed indian tried to make homestead entry today on the NW 1/4 of Sec 20 Twp 7 Rng 10 was rejected. The applicant is the son of Wm Shirley and an Indian woman of the Anadarqua indians. [the rest follows the above newspaper narratives of the same story] Shirley's right to file on the ground that of his father, therefore he has a right to file as a citizen of the United States.

married Daisy Glass. Her surname was identified in the marriage record for son Claud Shirley

children:

3(i). Ellis H. Shirley born about 1908 OK, age 2 in 1910 census, age 12 in 1920 census

3(ii). May A Shirley born about 1911 OK, age 9 in 1920 census

3(iii). Edward W Shirley born about 1913 OK, age 7 in 1920 census

3(iv). Vivian O Shirley born about 1915 OK, age 4 5/12 in 1920 census

3(v). Claud R Shirley born about 1918 OK, age 1 6/12 in 1920 census
---
1903 U.S. Indian Census Schedules
Census of the Kadohadacho Tribe
William Shirley abt 1837 Male
Jane Shirley abt 1837 Female
Minco Minstrel
Editor Lewis Hornbeck
Secured allotments
12 Jul. 1901
Quire a number of whites, principally husbands and wives of those who held rights by birth, sought admission on the rolls for allotment in the Wichita reservation. Besides there were some of different Indian parentage, and some on yet different scores. In all there were about forty such applicants, whose membership and right to allotments had been favored by the Indians in one way of another. During the process of regular allotment all these names were held up to await the decision of the Secretary of the Interior as to their right to allotment. On Monday of this week the decisions of the Secretary were made known to the various applicants from the office at Anadarko. Out of the whole number only twenty-seven applicants were approved by the Secretary, all the others being rejected: The lucky ones were: Nicholas Araspar, Adophus Araspar, Mrs. Susie Araspar, Tulie Araspar, Ellen Araspar, Mrs. Belle Kenoyer Brown, Mrs. Kate Dagnett, James M. Davis, Mrs. Emily Davis, Frank Garen, John Hansell, Mrs. Winnie Hendrix, Mrs. Ellen H. King, Joe Leonard, Mrs. Nancy Long, Ben Montoyah, Mrs. Alice Osborne, Bill Perdeere, Pat Pruner, Mrs. Mary N. Purdy, Frank Purdy, Earl Purdy, Vernon Purdy, Mrs. Jane Shirley, William Shirley, Mrs. Adelia L. Strong, William Hansell.....Everybody in the county will be glad to learn that Mrs. Jane Shirley was given a homestead in the Wichita reservation that decision, at least, will be unanimously approved by all who know her. Her husband, Dr Shirley was Indian trader and government physician among the Wichita's from the days of 1856 to his death in '75. Mrs. Shirley has continued to live in the country and raise her family, as best she could since. Her children are now all married but one, Miss Cora, a resident of Minco. The homestead is the northeast quarter of section 11 in township 10, range 8, it is about five miles northwest of Minco and one mile south of the Canadian river .

Burial Ground North of Anadarko
William Shirley b 1830 d 1907

Lora Louis Shirley b Dec 26 1908, d Feb 26 1909
WPA Survey of old Caddo Indian burial cemetery
Lora Louis Shirley b 26 Dec 1908 d 26 Feb 1909
William Shirley born 1830 Died 1907
---
BIOGRAPHICAL
W. G. Williams
W.G. Williams was born on Greenbriar Farm in Clay county Kentucky, on November 12, 1839 and passed his youth working on his father's farm and attending such common schools as that country afforded. In 1859 on of Mr. Williams' uncles decided to seek a home for his family in the then new state of Texas, and being offered an opportunity to accompany them. Our subject readily accepted, and leaving his old Kentucky home, started on the long and wearisome journey by wagon to the land of promise in the Southwest.
A few days before Christmas the party reached Crawford's ranch, in the Keechi valley, where they were attracted by the beauty of the country and decided to make settlement. On New Years day 1860 young Williams departed on the pretence of hunting work, owing to the quarrelsome disposition of his aunt, and never saw his relatives again. With $3.00 in his pocket, he set out for Young county on foot, a distance of 40 miles, through a dangerous, Indian infested county and the scene of frequent tragedies. On reaching the old U.S. Indian agency he found but one man there, who had chanced to select the deserted buildings as a place to camp for the night.
After six months we find Mr. Williams with a wagon train on his way to Ft. Cobb, Indian Territory, making himself generally useful as driver of a "chuck wagon" by day and horse guard by night. On reaching his destination Mr. Williams hired to a post trader, John Shirley, and a month later got employment in a hay camp swinging a scythe, at $25.00 a month, but at the end of his task the money was not forthcoming, and he again hired to Mr. Shirley. Finding himself again out of employment, Mr. Williams made a trip to Ft. Arbuckle, a distance of 100 miles, to try to collect from the man who yet owned him for his work in the hay camp. Not being able to collect the debt he hired to Smith Paul to make 1,000 rails and build the fence, the first fence ever erected in Pauls Valley, a region noted for its wonderful fertility and valuable farms.
In 1861 Mr. Williams hired to Shirley, his old employer, to assist in bringing to the Territory a herd of cattle from Camp Cooper in Texas. A location for the cattle was chosen on Chandler's creek, and Mr. Williams' experience as a rail splitter was put to good use in erecting corrals . That fall the Kiowas took the war path and it was necessary to move the cattle to the Washita near the reservation. When things quieted down they were again moved to the ranch, where Mr. Williams remained until the fall of 1862. On the 22d of October some Indians from the north made a decent upon the agency, which they burned, and killed five white men, then they turned upon the Tonkawa Indians and massacred fully half of the tribe, 152 persons, mostly women and children. Those of the agency who escaped made their way to the ranch a distance of fifteen miles. There being but one horse in the party they rode by turns, and reached the ranch about daylight. Mr. Williams was still in bed, but was called out and sent after the horses. During his absence a council of war was held and all were eager to start at once for Texas. Mr. Williams remained at Gainsville during the rest of that fall and winter.
The following spring he met Mr. Shirley at Sherman and made arrangements to return with him to the abandoned ranch on Chandler's Creek, where they found the cattle running wild with the buffalo and still in the midst of hostile Indians. They succeeded in getting together about 1000 head and took them to Pauls Valley and in partnership with a man named Bunger, they handles them on shares for Mr. Shirley. They kept the cattle near White Bead Hill until after the war. In 1867 the herd was divided and Mr. Williams received one-third as his share. This was the starting point of this long and successful career in the cattle business.
In the spring of 1872 the herd was moved up on the Chisholm trail at what was then known as Old Silver City, where he remained until 1878, when he sold out to M.T. Johnson and moved over on Stinking Creek in what is now Caddo county, then he moved to the Washita, where the present Williams Ranch is now located.
Mr. Williams' herd was known all over the Southwest as the Half Moon herd. These cattle and horses were purchased by C.B. Campbell, who continued to breed them up to a higher standard. His ranch at one time comprised 16,000 acres of range, on which he kept 3,000 to 5,000 head of cattle.
W.G. Williams was one of the organizers of the Bank of Minco of which he was president for a number of years; was a partner with Mr. Campbell in the firm of C.B. Campbell & Co.; owned an interests in the El Reno Wholesale Grocery Co. and other interests in this section.
Mr. Williams' first wife was a handsome Indian maiden of the Caddo tribe, and to this union were born eleven children, one daughter being the wife of C.B. Campbell, of this city. The other living children are: Chas. S., Robert L., Mrs. J.W. Carpenter, Jesse, Mrs. Sadie Coleman, and Miss Mayme Williams. Mr. Williams married a second time, in 1894 to Mrs. S.W. Romick, from whom he was divorced last year.
---
Minco I.T March 22, 1901

BIOGRAPHICAL
Rufus Oliphant
The old man is dead. He died at Doc. Sturm's place on Cobb creek, in the Wichita reservation, on Friday, March 2, 1901, though a continual resident and quiet participant in all matters of this county for more than forty years past, his history is difficult to get at with any accuracy. Everyone in the county knew him, while but few, if any at all, knew where or when he was born and can tell but little of his early life. The probabilities are that he was born and reared in eastern Texas, the date of his birth being abut 1831, and dying at the age of 70 years, but this is all based on uncertain data, though the best obtainable at present. Away back in 1858 there was an Indian agency at Fort Cooper, on the Clear Fork of the Brazoe river in Texas, for the friendly band of Pen-nah-tekka Comanches and other Indians, at which agency Dr Shirley was then a licensed trader. There Rufus Oliphant appears for the first time we can guess at his history. He was then a young man in his full vigor of life. He was given employment by Dr Shirley in keeping a farm not far from the agency. About 1859 the scattered bands of the Wichita tribe were ordered to return to their old home on the Washita river, where a remnant of them forever abided, and the Pen-nah-tekka Comanches fell in with the movement and were given a place near by. Fort Cobb was established on Cobb creek near where it empties into the Washita river, and an agency was located a few miles further down the river on a beautiful plateau at what is now known as the mouth of Lepper creek. Dr Shirley came on with the Indians, leaving his affairs in the hands of Rufus Oliphant for the time. Later on Rufus showed up a the new agency, followed by Dr Shirley's family. Rufus obtained employment about the agency and remained. In October of 1862, while the Civil War was on, a band of rebellious Indians destroyed the agency, killed several people, and ran the Indian agent, Leeper, out of the country never to return. The occasion of this massacre and riot was a time of peril to all, and the whites and friendly Indians sought refuge as it could be found. The Shirley family escaped and took refuge at old Cherokee town, a few miles below Paul's Valley on the Washita River. No one knew where anyone was, nor weather dead or alive, but Rufus found his way sagely to the same refuge, and was considered a member of the doctor's family from that time up to about 1870 After the war was over, Dr Shirley was again in business with his brother, Wm. Shirley, at what is now known as the old Wichita agency just north of Anadarko, and also had business interests at old Cherokee town. Dr Shirley died in 1875, from the effects of a dose of mistaken medicine, while at the Anadarko agency,

But several years previous to this Rufus had made the acquaintance of Doctor Strum, a white man married to a Caddo woman, and had gone to make his home on the banks of Cobb creek. Here Rufus, lived, and worked until the day of his death, March 1, 1901. Peace be to his memory. He was a kindly man, with malice toward none.
Information given by W.G. Williams and Mrs. Shirley, widow of Dr Shirley.
---
1910 Caddo Co Census
Dutton
Laurence Shirley Head Male 31 Oklahoma, rented farm
Della Shirley Wife Female 31 Texas 15 yrs mar, 4 child/4 alive
Lawrence Shirley Son Male 12 Oklahoma
Oscar Shirley Son Male 9 Oklahoma
Dora Shirley Daughter Female 6 Oklahoma
Lincoln
Oscar Shirley Head Male 38 Oklahoma
Mary Shirley Wife Female 35 Arkansas
Mary Shirley Daughter Female 14 Oklahoma
John Shirley Son Male 13 Oklahoma
Jessie Shirley Daughter Female 11 Oklahoma
Thomas Shirley Son Male 9 Oklahoma
Ellen Shirley Daughter Female 8 Oklahoma
Roy Shirley Son Male 6 Oklahoma
Edward Shirley Son Male 4 Oklahoma
Jessie Hennigan Hired man Male 19 Texas
OK School Records
Parent: O J Shirley's children; Res: Lincoln Twp, Anadarko PO
John Shirley b 20 Nov 1896 age 18
Jessie Shirley b 21 Nov 1898 age 16
Thomas Shirley b 19 Sep 1900 age 14
Ellen Shirley b 23 Feb 1903 age 12
Roy Shirley 2 Dec 1904 age 10
Edward Shirley b 18 Jan 1906 age 8
Texas Death Cert - Weatherford Parker Co TX
O. J Shirley d 30 May 1963 retired farmer b 6 March 1872, Oklahoma, age at death 91; Father John Shirley; Mother Jane Gafford; Buried Laurel Land Cemetery
Delaware
Harry Shirley Head Male 40 Oklahoma farmer 2nd marriage Fath b Ire/Eng Moth b Tx
Daisy Shirley Wife Female 22 Texas mar: 2yrs 2 child/1 alive
Ellis Shirley Son Male 2 Oklahoma
they had more children in later census
1910 Canadian Co Census
Louis H Fuhring Head Male 31 Iowa
Cora A Fuhring Wife Female 35 Oklahoma
Anthony S Fuhring Son Male 3 Oklahoma
Cora Shirley Niece Female 13 Oklahoma
1910 Grady OK Census
Verden
John Shirley Head Male 45 Kentucky Fath b US Moth b US
James W Shirley Son Male 14 Oklahoma
Samuel A Shirley Son Male 13 Oklahoma
Lee Shirley Son Male 12 Oklahoma
Roy S Shirley Son Male 10 Oklahoma
Herbert B Shirley Son Male 8 Oklahoma
Chickasaw Ward
Frank E Clayton Head Male 57 North Carolina
Agnes Clayten Wife Female 47 Oklahoma
Frank Clayten Son Male 26 Oklahoma
Winnie Clayten Daughter Female 18 Oklahoma
Clara Clayten Daughter Female 16 Oklahoma
Minerva Shirley Mother-in-law Female 73 Kansas
Alex
Robert L Brown Head Male 29 Texas
Hester M Brown Wife Female 30 Texas
Teddy B Brown Son Male 5 Oklahoma
William J Brown Son Male 3 Oklahoma
Rosa M Brown Daughter Female 0 Oklahoma
Martha A Shirley Mother-in-law Female 66 Kentucky
Ella E Berry Servant Female 30 Texas
Ruth O Berry Daughter Female 4 Oklahoma
Union
John R Fryrear Head Male 60 Kentucky
Katheryn Fryrear Wife Female 48 Oklahoma
John C Fryrear Son Male 21 Oklahoma
Fanny S Fryrear Daughter Female 18 Oklahoma
Cossy L Fryrear Daughter Female 16 Oklahoma
Lloid A Fryrear Son Male 12 Oklahoma

1920 Grady Co OK Census
John R Fryrear 69 b KY
Catherine A 56 b OK Fath Ireland Moth Ark
Loyd A son 22 b OK
Francis L Brown 5 granddaughter
John C Fryrear 29 son OK
---
Very likely Dr John Shirley
1860 Throckmorton Co Texas Census
Fort Belknap PO
John Shirley 28 merchant b Ireland
Jane Shirley 25 b Arkansas
Magaline 6 b Texas
Laura 4 b Texas
Hiram Aud 24 occ Teamster b MO
---
1871 to 1878 - Garvin County Indian Pioneer Papers -
BIOGRAPHICAL
Interview: Everet Peer Baker -
"I came to Pauls Valley, Oklahoma, Indian Territory in 1871. When I came here the government had a trail from Fort Gibson, Kansas, to Fort Arbuckle, Oklahoma....I stayed at Pauls Valley a short while and I went to Anadarko, Oklahoma, and stayed there about three years. I was working for William Shirley, who owned a trading post there. I did general work for him. I helped bale the first hay that was put up around there. Mr. Shirley owned a Buckeye Bailer and a Buckeye mowing machine. We hauled it to Fort Sill and sold the hay to the government. It was prairie hay. Our camp was on Cache Creek near Fort Sill. We cut hay around Anadarko and east of Anadarko. We would bale it up and then haul it to Cache Creek, where we had a big corral fixed to keep our mules in. The government had some soldiers there to guard our mules as we were hauling hay for the government. I remember one Saturday at noon a Comanche Indian named Queena Vida, who was a friend of Mr. Shirley came and told him that the Kiowa Indians were going to raid us that night and take our mules and horses. Mr. Shirley sent me up on a hill to watch for the Indians and they started loading up at sundown. We left there and at 11 o'clock we were 20 miles from there, crossing the Washita River at Black Beaver Ranch near Anadarko, Oklahoma. We had 40 mules and horses, eight wagons. This ranch was known as Shirley Trading Post. I returned from there to Pauls Valley and did some farming in 1878. I went to Lehigh, Oklahoma, close to Atoka, and started a livery barn, later I sold part interest to Mr. Bandy. Then we put in a barn at Pauls Valley, one at Whitebead Hill, 5 miles west of Pauls Valley now, one at Rush Springs and one at Fort Sill. They were called Baker and Bandy Stables. I owned half interest in a stable at Norman. Mr. Roundtree was my partner there. First mill in this part of the country was Zack Gardner's Mill, on the Washita River, east of Pauls Valley. At Cherokee Town Crossing, Wynnewood there was an old cotton wood log store that belonged to Dr. John Shirley, stage stand, blacksmith shop, two dwelling houses and a four room log house called a hotel. There was a toll bridge. For two horse wagons it costs 25 cents, for 4 horse wagon, 50 cents, for six horse wagon, $1.00 and for horse backers, 10 cents...."