Shirley DNA Project Testing is open to all males with the Shirley surname

---


Free DNA Tests - The Shirley Association announces free DNA tests for a limited number of Shirleys who currently live in England. Contact for more details to see if you qualify.

---

Query Board
Post your Shirley family query or read the queries of other researchers at this message board.

---

Shirley Family Branches Search for your ancestors from hundreds of Shirley pedigrees from all over the world.

---



Historical Photo Collection collection of historic photographs submitted by friends and members over the last 30 years.

---



Forms and Charts Use these free forms and charts to organize and present your Shirley research.

---

Donate to Research Efforts
The Shirley Association is not a profit-making enterprise (quite the opposite). Please consider donating money to our joint research effort.

Contact Information
This page provides all of the needed information to either write or email the Shirley Association. Meet the 2nd President of the Shirley Association

History of the Shirley Association
2008 represents the 30th anniversary of the founding of the Shirley Association. Learn about the history of the Shirley Association.

Conventions and Meetings
Read about the many Association conventions and meetings held around the world.

Shirley Family Reunions
This page announces all pending Shirley family reunions complete with time, place, and contact information.

Are you having a Shirley reunion? Contact the Shirley Association and we will post the announcement.

Search Engine

---

Shirley Books and Publications



Shirley Families of Jamaica, West Indies
A published family history of the descendants of Henry Shirley, esq. of Hyde Hall, Jamaica W.I. Almost 500 pages. Many descendants live today in Jamaica and USA. Order your copy today! $29.95 + s/h

---
---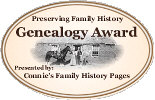 Shirley News and Notices Blog
Check this section regularly to monitor our news, alerts, and notices.

indicates information posted on a members-only webpage.
---
2015 Georgia Archives Research Findings


Members-only Preview
Original document findings from Washington Co, Warren Co, Twiggs Co, Jones Co, Clarke Co, Campbell Co, Henry, and Franklin Co
---
June 19, 2015
I spent about 4 hours today researching the descendants of slaves named in the 1862 estate inventory of Richard Shirley of Hart County Georgia. This is Branch #4.(see bottom of the lineage page) The freed slaves first lived in next door Franklin County GA in 1870 using the surnames Shirley and Roe (or Rowe). Descendants are traced to Eagle Lake, Colorado County Texas in the early 1900s.
Tracing these African-American families:

David Shirley (aka Solomon Shirley?), married Harriet (aka Jenny?), married Elsie

Anderson Shirley (son of Solomon Shirley)

Burrell Roe/Rowe, married Dilsey/Dilly/Lilly
June 15, 2015
Research Trip. I just spent almost a week at the Georgia Library and Archives in Atlanta researching Shirleys/Shurleys in that state. As warned often on this blog over the last year, the low hanging fruit of new discoveries have been picked long ago. The task now is to search obscure sources, looking for a needle in a haystack. These sources never seem to have indexes, so hours of page by page browsing is required, usually with no Shirley findings whatsoever. This was generally the case for my trip to Atlanta, no Eureka moments, few new findings (if any).
As a consolation prize, I spent some time browsing microfilm, gathering a few original deeds and other records. I will post what I gathered over the coming days to this blog and to the members' section.
May 26, 2015

I posted the following original will to the Hillsborough Co NH page in the members' section. This person is a member of Branch 25
Hillsborough NH

1857 Will of Daniel M Shirley of Goffstown Hillsborough New Hampshire. WB 57 page 535 - I give and bequath to my wife Jane Shirley one third part of the whole of my real estate, 2 cows with all my household goods bedsteads, bedding and other furniture. Authorize executor to sell all of my personal property remaining to apply to debts and to bargain in fee simple all those my lands called the Cummings Butterfield pasture situate in New Boston being 80 acres also the Waterville land situated in Waterville being 50 acres. Also a piece of land situate in Bedford call the [ ] being 2 acres, also to sell so much of the Hookset land as shall pay the balance of my debts. To my son Daniel Shirley 2/3 of my home place situate in Goffstown, one cow called the McDade heifer and one yoke of oxen also the colt called the French colt, also two hundred dollars worth of farming utensils . To my daughters Nancy Shirley, Mary Jane Shirley and Harriet Shirley each 200 dollars, to Harriet who is unmarried a home with Daniel Shirley and her mother while she remains unmarried. To Horace Shirley the colt called the Old Mare colt and a pair of twin calves or steers. The rest and remainder of my real estate on equal portions to my three sons Robert M Shirley, Joseph Shirley and Horace Shirley. Appoint Robert M Shirley executor. Written 11 October 1864 [sic]. < Daniel M Shirley> Wit: Alonzo F Carr, Joseph Butterfield, Bradford Campbell. Probated 2 October 1855.
May 17 2015
I've been spending a lot of time on 'needle in haystack' research, searching big document files page by page, mostly with no success. However, I found the following original signature of John Shirley of Laurens Co SC in the 1804 administration bond for the estate of George Wright in Laurens Co. This family is Branch 1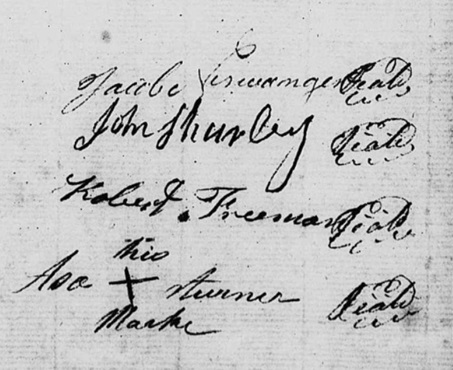 I posted loose estate records for Mary Ann Starnes who wrote her will 1841 and codicil 1851 in Laurens Co SC. She named her deceased daughter Ann Sherly and Susan, wife of Berryman Sherly. She also names Joel Sherly and Mary Berry, children of her deceased daughter Ann Sherly. Most of this was already abstracted and posted to the website, however, the original documents add more to the story and put the dates into context. For example, Ann's son Joel Sherly was apparently residing in Laurens Co SC having purchased an item at the estate sale of his grandmother Starnes.
April 17, 2015
Sorry I haven't provided an update to this research blog in a while. But as mentioned previously, that does not mean I am not posting new information to various parts of the Shirley website in the members' section. I routinely post little items that I find. But lately I posted a considerable amount of data to the Jamaica page. I frequently receive email queries from Shirleys of Jamaican descent, so I finally spent some time to post as much as I could, so I wouldn't 'reinvent the wheel' every time I received a genealogy query on the Jamaicans. There are so many Shirleys in Jamaica in the mid/late 1800s. It's very difficult to pinpoint how each of them fits into the lineages already posted on our website.
March 16, 2015
Will you be visiting Italy between 27 March and 24 May? - If so, then you might want to add an exhibition at the Sforza Cesarini palace just outside Rome to your travel itirnerary. The palace has Shirley roots!!! See our full narrative on the Shirley/Sforza connection.
I received this email from Francesco Sforza-Cesarini today.
The picture [brochure] below is the portrait of Duchess Caroline Shirley Sforza Cesarini by famous Italian 19th century painter Francesco Podesti. The portrait collection of 89 paintings still belongs to the Sforza Cesarini family.

The Sforza Cesarini family are descendants of the Sforza's of Milan, they still live in the palazzo in Rome known as the 'old Chancelry', given to cardinal Ascanio (brother of the Duke of Milan Francesco Sforza I) by Rodrigo Borgia in exchange for votes to become pope (he became Alexandre VI)

The Sforza Cesarini family is lending the collection for two months to the town of Genzano di Roma. The town municipality has recently bought the family palazzo (palazzo Sforza Cesarini) and transformed it into a museum.

I thought it might be of interest for the Shirley Association should any of its members be in Italy during that time. They could come and visit the exhibition and learn about one of their most distinguished and interesting characters who lived abroad in a non anglo-saxon country.

Hoping to have done a service, I send you my best regards,

Francesco Sforza Cesarini
Here is the brochure describing the Exhibition referred to in the email.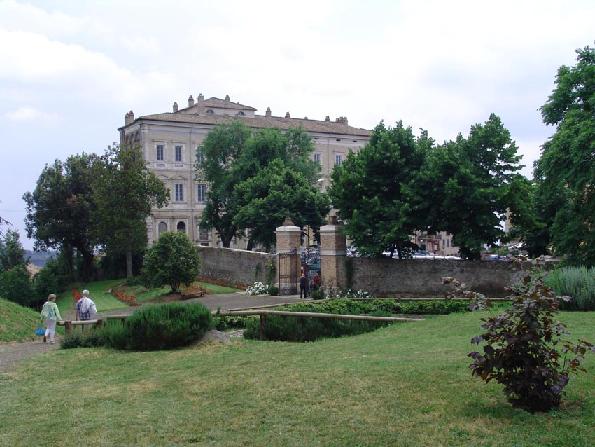 March 15, 2015
Thanks to Renee for finding a lost edition of the Shirley News. Last year, I created a project to digitize all editions of Betty Shirley's "Shirley News". See the first batch posted here. However, Volume1, Number 3 was missing. Thanks to Renee for finding and submitting Number 3 to the project.
Volume 1: Number 3 - January 1979

Pedigree: Robert Shirley of Armstrong Co PA

Letter from Betty Shirley discussing the upcoming issue

Records: Shirleys mentioned in the 'Pennsylvania Archives' publication series

Pedigree: John Shirley of Warren Co PA

Pedigree: Thomas Sherly of Allegheny Co PA

Records: Bedford Co PA

Narrative: Alice Shirley (b 1747) married William Gilson

Pedigree: George Shirley b PA, died Morgan Co OH

Records: Revolutionary War Pension Application affidavit of Thoams Shirley of Franklin Co PA

Records: Early colonial maps, the migration route and settlement of early Pennsylvania

Records: 1790-1820 census of Pennsylvania: Shirley names

Records: New Shirley Association members, names and addresses

Photos in this edition

Grandson [not named] of George Shirley of Morgan Co OH

Great grandchildren of George Shirley of Morgan Co OH: Harvey Perry Shirley, Hulda Shirley Oliver, Pennell Shirley, Eliza "Lyde" Shirley Otis

Grandson of George Shirley of Morgan Co OH: Silas Shirley
March 13, 2015
Thanks to Renee for submitting the original images of a family bible and marriage certificate of her ancestor, Samuel V Shirley of Tuscaloosa Co AL. He was the son of Biard Shirley (Eli Shirley Branch #46)
2(i). Samuel V. Shirley born 28 June 1850 at Marcumville Tuscaloosa Co Alabama, age 19 in mother's 1870 census household. He was also enumerated in his uncle John Lewis Shirley's household in the same census, age 21. He died 22 July 1922 at Marcumville, Tuscaloosa Co AL (see his bible record)

married Kizziah C Boozer on 24 December 1871 at the home of her father Andrew Boozer, Tuscaloosa Co AL. (source: marriage license). She was born 17 November 1848. She died 17 December 1927.
March 1, 2015
Thanks to Delaine for sending along the following court record involving Shirleys of Blair County PA, Branch 13
Blair Co PA

February 21, 1917 Altoona Tribune- page 11 - In the Orphans' Court of Blair County, Pennsylvania. No. O. C. 1917. To Henry Shirley, Mary Shirley. Charity Shirley intermarried, with William Reaney. Sarah Shirley, intermarried with Jeremiah Ivory, Catharine Shirley intermarried Peter Cristy, Alice Shirley intermarried with John Dear, Eliza Jane Shirley, and Patrick Dod Shirley, and James Shirley, being all the legal tees mentioned in the last will and testament of Richard Shirley, deceased, and to all the legal representatives of said Richard Shirley, deceased, and to all the legal representatives of James Shirley, deceased: Take notice that on the sixteenth day of February, 1917, John Sell, presented a petition, setting forth that he is the owner in fee of all that certain message, tenement and tract or piece of land, situate in the township of Freedom, in the county of Blair and state of Pennsylvania, bounded and described, as follows: Beginning at a line tree on the bank of the Juanita branch; thence by lands 01 formerly Michael Walters North sixty-five degrees West- one hundred eighteen perches to a white oak; thence South seventy degrees West eighty-eight perches to a white oak; thence by land of formerly Miller, South sixteen and one-half degrees West fifty-four peaches to a corner; thence by lands of sixty-six degrees East two hundred thirty perches to a corner on bank of said stream; thence down the said stream. North seventeen degrees West seventy-one peaches to a. corner and North fifteen degrees East sixty porches to the place of beginning, containing one hundred twenty-one acres, more or less. That Richard Shirley, one of the former owners of said described tract of land, died, on or about the day of , 1849, having made his last will and testament in writing, bearing date December 21, 1846, and duly admitted to probate in the Orphans' Court of Blair county, December 6, 1849, and recorded in will book "A" page 183, wherein and whereby, amongst other things, he did give and devise the said tract of land or farm to his son, James Shirley, In fee simple, subject, however, to the payment of certain legacies to the following named children:. Henry Shirley, Mary Shirley, Charity Shirley intermarried with William Reaney, Sarah Shirley, intermarried with Jeremiah Ivory, Catharine Shirley, Intermarried with Peter Christy, Alice Shirley, intermarried with John Dear, Eliza Jane Shirley, and the heirs of Patrick Dod Shirley, deceased, and that said legacies were made a charge upon the land above described. That no sufficient release, acquittance. or acknowledgement of payment of any of the aforesaid legacies or charges is of record in the county of Blair, the county in womcn me s&ia lanci is situate, and that a greater period than twenty-one years has elapsed since the principal of such encumbrances or charges have be or has been made on account of said encumbrances or charges -within said period of twenty-five years in fact no payment has been made for a period of about ioriy-nine years, so far as can be ascertained by petitioner, either by the petitioner mmseir, or any or his pre decessors Jn title, and by reason of said period of time, the legal presumption of lAijiiicuL vi mo oaiu ingauien or marges on said land, exists; that no assignment or earn legacies is noted upon the re corn thereof, and that the names of the persons interested in the payment of the above .described legacies, and their resiaence are unknown to the petitioner, me pemiuuer tnereiore prays lor satisfaction thereof. Whereupon the said Court ordered that notice of said facts be served by the Sheriff of Biair county upon persons u wniim tne saia legacies are due and owing,- and if they can not be found within said county of Blair, then to give fuuuu iiuuuts uy wuvertisement, requiring them to appear in said Court on Monday. April 2. 1917. And Antiwar lha said petition, and commence proper legal proceedings to enforce payment of their claims wunin miriy days after said return aay to wit, April 2, 1917, or show cause why the record of said legacies annum nut ue marnea saiisnea, as pro- HARRY S. HOLLAND. Esq., Sheriff of Blair County.

February 27, 2015
I'm currently tracking the family of this English fellow, born in Worminghall Buckinghamshire in 1820.
Stephen Shirley.

The leading events in the life of Mr. Shirley are given elsewhere in this volume, but for convenience of reference we give this brief additional notice. Mr. Shirley was a native of Buckinghamshire, where he was born in April, 1820, but with his parents removed to London soon after his birth. He early lost his father and had to make his own way in the world with but few advantages. His sterling qualities, however, told in his favour and having found a position in a business firm, he discharged duties of constantly increasing responsibility for over forty years. Many domestic bereavements befel Mr. Shirley, but never caused him to slacken his efforts on behalf of the Sunday School and the Band of Hope. His manner was singularly winning and pleasant, and for many years his Chairmanship of the Committee of the Union was of great value to the movement. Mr. Shirley was an occasional writer as well as a speaker, and published an address to working men, entitled "Our National Sinews." His death occurred on Wednesday, February 24, 1897, and it was a matter of regret to his many friends that he did not survive to witness the Jubilee Celebration in which he would have most appropriately taken a distinguished and interesting part.- The Jubilee of the Band of Hope

---

Stephen Shirley was born amid humble surroundings in the village of Worminghall, Buckinghamshire, April 22d, 1820, and was the second of a family of seven. During his infancy his parents removed to Kentish Town, where he was left fatherless at the age of twelve years. His elder brother soon after enlisted as a soldier, and left Stephen to bear the brunt of the battle of life. At ten years of age he was put to his father's trade (that of a tailor) and continued to follow that occupation till the age of fifteen, when he was taken in hand by a gentleman connected with a Congregational Sunday-school of which Stephen was a scholar. This gentleman placed him in the employment of a firm of stationers, which has since become one of the most extensive in London, and this proved to be the first step of his rise in the social scale. In May, 1840, Mr. Shirley became identified with the temperance movement, and henceforth t iok an earnest and active part in its operations. In 1855 he opened a temperance hotel in Hanover Street, Long Acre (which was afterwards removed in 1857 to Queen's Square, Bloomsbury), and would not allow either drink or tobacco to be consumed therein with his knowledge. Some of his teetotal friends pleaded hard for the pipe, but Mr. Shirley was inflexible, and stood to this all through his career as a temperance-hotel proprietor. In the same year (1855) he conceived the idea of forming a Band of Hope union, and with the assistance of several friends the institution so widely known as the United Kingdom Band of Hope Union was established, as already stated. Mr. Shirley assisted in the formation of the London Temperance League (since merged into the National Temperance League), and he established a temperance society and Band of Hope at Isleworth. He has taken a deep interest in the operations of the United Kingdom Alliance, the Good Templar movement, and other efforts. In 1855 he published a small work entitled Our National Sinews, being a word to and for the working-classes. He also contributed a series of papers to temperance periodicals under the nom de plume of "Uncle Trice." The Temperance Movement: And Its Workers, Volume 2
February 7, 2015

I posted the following early apprenticship record to the Howard Co MO page in the members' section. This family is Shirley Branch #30
Howard Co MO

9 Nov 1818 Howard County MO Will Book A page 2 - This indenture made this 9th day of November in the year one thousand eight hundred and eighteen witneseth that by virtue of an order of the circuit court for the county of Howard in Missouri Territory ....Silas C Shirly infant orphan son of Charles Shirly deceased aged eleven years on the 11 day of December last past doth by these presents stand bound as an apprentice by Nicholas Proctor his guardian unto Joseph Jolly of the county aforesaid to learn the trade science or occupation of a wheel wright which he the said Jolly now useth and with him as an apprentice to dwell and to serve him from teh day of the date hereof until he the said Silas shall arrive at the age of twenty one years fully to be completed and ended. and during all which term the said apprentice his said master well and truly shall serve his secrets keep his lawfull commands every when obey hast to his said master he shall not do nor suffer it to be done by others but of the same to his power to his said master shall forwith give notice the goods of his sd master he shall not embezle nor [ ] lend to any without his said masters consent. At cards dice or any unlawful game he shall not frequent fornication he shall not matrimony he shall not contract from the service of his said master he shall not depart at any time without his said masters leave, But in all things as a good and faithful apprentice shall demean and behave himself toward his said master during the term aforesaid - And the said Joseph Jolley his said apprentice the trade science or occupation of a wheelwright which he the said Jolly now useth with all things thereunto belonging shall teach instruct or cause the same to be [ ] in the best manner he can and shall also find and allow unto his said apprentice good wholesome meet drink washing lodging and apparrell cloth linnen and woolen and other [ ] fit and convenient for such an apprentice and shall also within the said term teach or cause to be taught his said apprentice reading writing and common arrithmatic including the rule of three - In witness whereof we have herunto set our hands and seals this day and year first above written. Nichl X Proctor, Joseph Jolly

I posted the following original estate inventory to the Cooper Co MO page in the members' section. This family is Branch #30
Cooper Co MO

1 August 1848 Cooper Co MO Inventory Book A, page 193, page 194, page 196 - I do solomnly swear that the foregoing inventory is a full inventory and description of all the money goods chattels and estate real and personal books papers and evidences of debt and of [ ] of the estate of Charles Shirley dec'd and of all debts due or becoming due so far as I can ascertain them except the property reserved as the absolute property of the widow and that I was not indebted or bound in any contract to the deceased at the time of his death except as stated in said inventory So help me God. Susan X Shierley adminx. 1st day of August 1848.

I posted the following original inventory record to the Lafayette Co MO page in the members' section. This is Branch #73
Lafayette Co MO

1853 Nov 26 Lafayette Co MO Inventory Book A page 340, page 341 - Martha C Shirly administratrix of the estate of John Shirley deceased makes oath and states that the foregoing is a full inventory and description of all the money goods chattles and estate real and personal books papers and evidences of debt and of title of the deceased and of all debts due and becoming due as far as she can ascertain them except the property named as the absolute property of the widow and that she was not indebted or bound in any contract to the deceased at the time of his death except as stated in the inventory. Martha C Shirly adminx. 26th day of November 1853.
January 31, 2015

I posted the following will transcript of James Waller to the Edgecombe Co NC page in the members' section
Edgecombe Co NC

[1808] Waller, James, will, NC State Archives, Edgecombe Co. Wills, CR.037.801.31. Recorded in book B, page 375. In the name of God, Amen, I James Waller of the County of Edgecombe and State of North Carolina, being in a poor state of health but of sound mind and memory...... Item- to my Loving wife, Rebecca Waller during her life the house I now live in and 150 acres of land adjoining and all the appurtenances belonging, also a negro man Caleb during the above mentioned term, also $100 to be paid by my executor as soon as they can conveniently; one bay mare, two cows & calves, two sows & pigs, one feather bed and bedding, the beaufet and as much of the household furniture as will be sufficient for her use and she is to be supplied with as much provisions as is necessary for the ensuing year; Item- to my grandson, Uriah Shirley and his heirs forever, 50 acres of land adjoining the land already bequeathed to my wife and at her death, I give the said 150 acres to him and his heirs, also I give my grandson, Uriah my young mare, bridle and saddle, one feather bed and bedding and one sow and pigs, two cows, two yearlings and a heifer; should the said Uriah die before reaching the age of 21 then the above mentioned legacy to be equally divided among my surviving grandchildren; Item- to my daughter, Jenny Morgan and her children, for their support, 20 pounds a year in such manner as will best answer the purpose of this legacy by my executor during the term of five years; Item- to my daughter, Nancy Howell five pounds a year during her (life); Item- to my daughter, Mary Taylor & her children, a negro wench named Peg and her issue during her life and then to be equally divided among her children; Item- to my grandson, John Shirley, twenty shillings in full of his share of my estate; Item- my executors are to sell remainder of my land which is not given away and the money arising to be put to interest also, that my desire is my negroes, Cube, Mingo and Windsor be hired out for 20 years and the money arising from the above purposes to be equally divided between my grandchildren, excepting John Shirley and his heirs, it is also my desire that my executors hire out my negro wench, Rachel during the life of my daughter, Jenny Morgan & pay to her the hire of said wench and at her death, said wench & her increase, if any, to be sold and equally divided among her children, further it is my desire if it should appear to me executors to be an advantage to sell the above named negroes, Cube, Mingo & Windsor, they are to do so and divide the money as above directed; all my other property not mentioned to be sold and the money to be equally divided amongst as above directed; Item- my executors are to take the 20 pounds a year given to Jenny Morgan and her children out of their share of the estate, so as it shall not come out of the whole; Item- my son, Sterling Waller, James Southerland and Thomas D. Guion to be executors, allowing them the discretionary power to (relieve) or give to my grandchildren any such sums of money as will to them appear just & ri
January 23, 2015

I found this remarkable item in the St Thomas in the East Jamaica WI parish record. I posted it to the Jamaica page in the members' section
Jamaica

22 January 1797 -St Thomas in the East (p 224) Baptized at Petersfield Estate thirty eight slaves and two free persons of color; viz
| | | |
| --- | --- | --- |
| | FORMERLY NAMED | SPONSOR |
| Samuel Thomson | May | Mr Thomson |
| John Napier | Gambo | Mr Napier |
| Jospeh Mason | Abram | Cap: Moore |
| William Gillespie | Wilkes | |
| Archibald Graham | Ross | Mr Latem |
| James Baillie | Lyttleton | 2nd do: |
| Alexander Darling | Wanica | Mr Ellis |
| John Harris Edmond | Nat | Mr Shirley |
| Lancelot Lake | Einburgh | Capt Moore |
| Fortunatus Dwarris | Lampson | Dr Rose |
| Augustus Valette | Randal | Cap: Moore |
| William Ellis | | Mr Ellis |
| William Blair | Quashie | Cap: Blair |
| Bernard Shirley | Romeo | Mr Shirley |
| Helena Shirley | Haggas | |
| Mary | | |
| Fhemy Shirley | Delia | |
| Helen Shirley | Fiecha | |
| John Shirley | | |
| Rosea Shirley | Chloe | |
| Louisa Shirley | Pamela | |
| Cecelia Shirley | Molly | |
| Mary Bernard | Elsie | Mr Thomson |
| Elizabeth Moore | Molly | Cap: Moore |
| Sarah Bernard | Cinda | |
| Sally Thomson | 2nd Molly | Mr Thomson |
| Mary Wilson | | Mr Shirley |
| John Rose | Chance | Dr Rose |
| Francis Blair | Smart | Cap: Blair |
| Thomas Blair | | |
| Catherine | Nanette | Mr Shirley |
| Mary | Bessy | |
| Anne | 2nd Sheba | |
| Jane Lamont | | |
| William | Palmer | |
| William | Cato | |
| Christopher | Cudjoe | |
| Jenny | Mary | |
| Elizabeth free | Pusey | |

John West Rvd
1797 March 12 -St Thomas in the East (p 225) Baptized in Church, seven slaves belonging to Peterfield, viz:
| | | |
| --- | --- | --- |
| | FORMERLY NAMED | AGED |
| Spencer Shirley | Cuffee | 50 years |
| Sarah Gordon | Sarah | 25 years |
| John | | 3 years |
| Margaret | Bonita | 50 years |
| Sarah | Christian | 35 years |
| Eliza | Lucy | 20 years |
| Mary | | 3 years |


Sponsor: Captain Moore; John West Rev.
January 16, 2015

I posted the following abstracts to the Derbyshire England page in the members' section.
Derbyshire

20 Sep 1636 Feoffment by Phillipp, Earl of chesterfield to Arthur Shirley of Hilton, yeoman, in consideration of £200, of a moiety of a messuage in Hilton D157/MT/737

29 Oct 1658 Feoffment by William Shirley of Hilton to Robert Heycocke of Hilton, in consideration of £60, of a close of pasture ground known as the Rushee Leas and a close of pasture ground known as the Flinty Furlong, both in Hilton, D157/MT/741

10 Jul 1667 Feoffment by William Shirley of Hilton, yeoman and Mary Shirley his wife to Richard Elward of Hoon, yeoman, in consideration of £32 10s, of several parcels of land in Hilton, D157/MT/744

24 Feb 1672/3 - Feoffment by Gilbert Wakelyn of Lichfield, co Stafford, gent and Dorothy his wife to Arthur Shirley of Hilton, husbandman, in consideration of the sum of £149 10s, of a messuage with its appurtenances in Hilton, commonly called Lathburies house and several parcels of meadow ground lying in a meadow known as the Neather Meadow in Hilton, D157/MT/966

25 Oct 1675 Assignment of a mortgage for 999 years by Alexander Walthall of Burton on Trent, co Stafford gent, to Arthur Shirley of Hilton, yeoman, in consideration of the sum of £95, of several parcels of land called Potlocke Meadow, the Overfield, the nether Field, a close known as Sutton Meadow hedge and also eight beast gates in Hearnicroft in Hilton, D157/MT/967

8 Feb 1676/7 Quitclaim by Gilbert Wakelyn of the city of Lichfield, co Stafford, gent, brother and heir apparent of John Wakelyn late of Hilton, gent, deceased, to Arthur Shirley of Hilton, husbandman, of all title to several closes of land in Hilton, D157/MT/968

24 Jan 1681/2 Mortgage by demise for 500 years by John Shirley the Elder of Hilton, yeoman and John Shirley the Younger of Hilton, yeoman, to Sarah Shore of Derby, widow, in consideration of £80, of the moiety or half of a messuage in Hilton, with bond and receipt, D157/MT/750-752

12 Feb 1685/6 Feoffment by John Shirley the Elder of Hilton, yeoman, and John Shirley the Younger, to John Gisborne the Younger of Derby, gent., in consideration of £132 10s, of several parcels of arable land, meadow and pasture in Hilton, containing c15 acres, with bond, D157/MT/753-754

13 Feb 1685/6 Assignment of a mortgage by John Shirley the Elder of Hilton yeoman, John Shirley the Elder and Sarah Shore of Derby, widow to John Gisbourne of Derby, gent and Thomas Gisborne of Derby, gent, in consideration of £85 2s, of several parcels of arable land, meadow and pasture as in MT/754, D157/MT/757

3 Mar 1685/6 Bond by John Shirley the Elder of Hilton, yeoman, and John Shirley the Younger, to John Gisborne the Younger of Derby, gent, in £220, for the performance of covenants contained in indentures of equal date (see MT/758-759), D157/MT/755

3 Mar 1685/6 Feoffment by John Shirley the Elder of Hilton, yeoman, and John Shirley the Younger, to John Gisborne the Younger of Derby, gent, in consideration of £110, of a messuage in Hilton, an adjoining croft containing two acres, several parcels of land, and 2 cowgates in Hilton, with receipt, D157/MT/759-760

Trinity Term 1686 Final concord between John Gisborne the younger, querent, and Robert Draper, gent?and Mary his wife, Thomas Harrison, Arthur Harrison, John Shirley the Elder, John Shirley the Younger, and Mary his wife, deforciants, of 2 messuages, cottages, gardens, orchards, 10 acres of land, etc, in Hilton in consideration of £20, D157/MT/1286

13 Apr 1706 Marriage settlement between Arthur Shirley the Elder of Hilton, yeoman, Arthur Shirley the Younger, Ann IIsley of Yoxall Woodhouse, co Stafford, spinster, Thomas Shipton of Staunton luxta Potem, gent and John Shipton of Yoxall Woodhouse, gent by which in consideration of the marriage between Arthur Shirley the Younger and Ann IIsley and the sum of £150, Arthur Shirley the Elder and Arthur Shirley the Younger have conveyed to Thomas Shipton and John Shipton several parcels of land and beastgates in Hilton, with copy, D157/MT/773-774

1709 Trinity College Cambridge University Admissions - Shirley, John. Son of Arthur Shirley of Hilton, Derbyshire. School, Uttoxeter, Staffordshire (Mr Burnet). Age 17. Subsizar, June 22, 1709. Tutor, Mr Baker. [Matriculated, 1709; Sizar, 1709. Migrated to Emmanuel College. Thence, B.A. 1712.]

7 Oct 1712 Counterpart mortgage by Arthur Shirley the younger of Hilton, yeoman, and Ann his wife, John Shipton of Yoxall Woodhouses, co Stafford, gent, to Dorothy Shilton of Stapenhill, widow, and William Hawkins of Burton upon Trent, co Stafford, gent, in consideration of £100, of several parcels of land in Hilton, D157/MT/974

2 Aug 1715 Bond by Arthur Shirley senior of Hilton, yeoman, and Arthur Shirley junior of Hilton, yeoman, to William Hawkins of Burton on Trent, co Stafford, gent, in £60 for the performance of covenants contained in indentures of equal date, D157/MT/975

13 Oct 1715 Counterpart lease for 21 years by William Hawkins, of Burton on Trent, co Stafford, gent, to Arthur Shirley the younger of Hilton, yeoman, of a parcel of land situated in Hilton commonly known as the Sutton Meadow hedge Close at the yearly rent of thirty shillings, D157/MT/976

View the archived postings>>